7 Secrets of Winning in a Saturated Market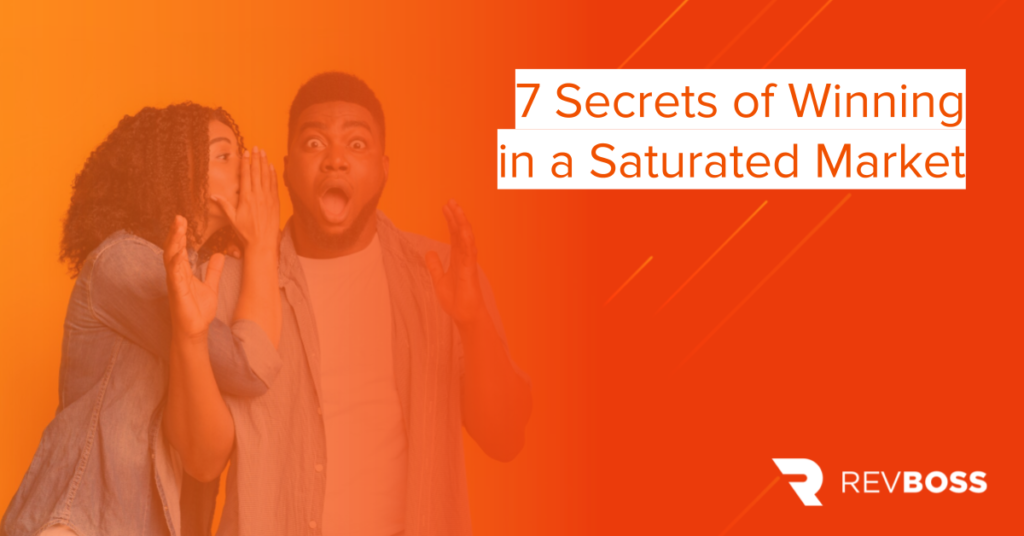 Today's consumers have more product choice than ever before, especially in a vast and booming information technology industry. For any single product or software service need, buyers have dozens (even hundreds) of options to choose from, leaving brands vying for their attention in an equally crowded digital marketing landscape.
In the United States alone, there are more than 17,000 software publishers — a 10.6% increase from 2022 and nearly double the number that existed just five years ago.
As a tech sales professional, you might be wondering: How in the world can you make your solutions stand out amidst this massive amount of competition?
That's what we'll cover in this article — more specifically, we'll walk through 7 winning ways to close more deals and make consistent sales in a saturated market.
Quick Takeaways
The top reason customers choose one vendor over another is a demonstrated understanding of their unique needs.
Marketing automation enables the speed and scale of follow up that today's sales pipelines require.
B2B companies need a comprehensive content marketing strategy to get noticed by B2B purchase decision makers.
Nearly 90% of buyers are willing to pay more for a better customer experience.
7 Ways to Earn Sales in a Saturated Market
Know your customers best
Customers want to feel understood and valued by the vendors they work with — in fact, 68% of B2B buyers say an understanding of their unique needs is the top reason they chose a current vendor over another. The lesson is not to try and be everything to everyone. Go after your target audience and best-fit customers, and aim to craft your sales messaging specifically for them.
Develop strong ideal customer profiles and buyer personas based on thorough research, and customize your sales process (including sales rep assignments, content, paid ads, email lists, and sales pitch messaging, among other things) to specific buyer segments.
Automate
Speed is part of the sales game today — while a business day (or even a few) was once an acceptable response time, today's buyers expect to hear from your sales team within hours or even minutes of inquiry or outreach. This is particularly true for SaaS companies, where the buyer journey happens almost exclusively online.
Given the amount of leads companies now generate and manage in their pipelines, maintaining that level of response is impossible without marketing automation to support it.
Some important automation tools to have and leverage throughout your sales process include: a CRM system, sales prospecting software, content management system, and email marketing platform (to name a few essentials).
The point here, however, is not to let lead follow-up slip up — ever. The truth is that winning a new deal often comes down to being the vendor who answers an inquiry first.
Hit the right price point
Pricing for IT products is often dynamic by nature, especially given the ease with which today's buyers can shop around. Hitting the right price point is critical to winning sales, but it's also important to keep in mind that it's not always about coming in lowest. Rather, it's about finding a fair price for the value you provide, then offering attractive payment models that align with your target buyer's preferences.
Subscription-based models are particularly prevalent in the SaaS industry, while a monthly retainer for managed services is common in IT managed services. For hardware products, the right price varies greatly, of course, by the specific product and its features.
Do your research to find out how your competitors price their offerings. Be willing to (responsibly) experiment with pricing levels and models to find the one that maximizes sales and profit margins.
Leverage content
Research has found that B2B buyers interact with 13+ pieces of content before they make a purchase decision — everything from blogs to social media posts to ebooks and whitepapers to video and more.
To get noticed and win sales in a saturated market, you need to have a comprehensive content marketing strategy that includes many content types and a frequent publishing schedule.
The key to content differentiation? Focus on value. Cover topics that address your buyers' needs and goals, delivering helpful resources they can utilize before they make a purchase or even before they interact with your team. Doing so builds engagement and connection, establishing your brand as one who understands them and can deliver quality solutions.
Research your competitors
You can't gain a competitive edge if you don't know what your competitors are doing in the first place. While it's easy to stay laser-focused on your customers and how you'll market to them, knowing your competition and strategizing around how you can differentiate is critical to winning sales in a saturated market.
Research your competitors websites as a start, but then go a step further with tactics like:
Studying their current content rankings with SEO research tools
Following them on social media
Attending their online events and subscribing to their blog and email content
Perform self-service product demos
The more you know about how they're interacting with their target audiences, the better able you'll be to pinpoint opportunities to do better.
Focus on experience
For today's buyers, a purchase decision isn't just about price or even product/service quality. The experience factors in more than ever — 86% of buyers even say they're willing to pay more for a better experience from brands.
Level up your buyer experience with tactics like personalization, omnichannel engagement, high-value content, easy-to-use communication channels, exceptional sales rep interactions, and quality customer support at every stage of the buying process (and after).
Stay true to your brand
Standing out from your competition is necessary to win sales in a saturated market — but not at the expense of your brand authenticity. Remember that customers want to work with brands that are honest and authentically represent their values. Ensure that the tactics you;re using to win new business align with the way you want your company to be represented long-term.
Over to You
Ready to find best-fit prospects for your SaaS or IT company? RevBoss can help. Our outbound email software and lead gen services are custom-built for startups, consultancies, marketing agencies, and other growing B2B organizations.
Schedule a quick call with us and find out how we can help you win more clients.