How to Build an Effective Sales Prospecting Plan [Template Included]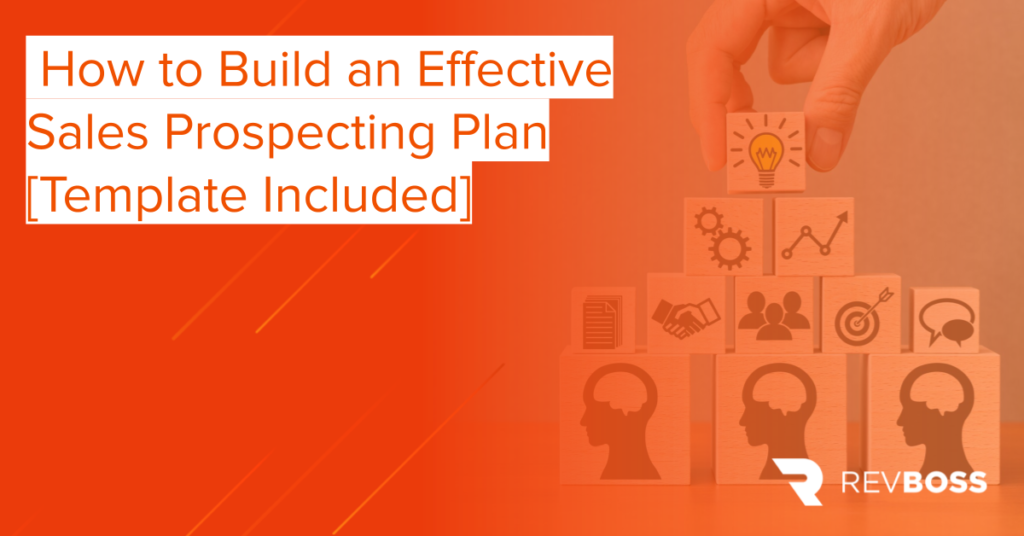 Sales prospecting is one of the most essential parts of the larger sales process, but it's also the most challenging according to 42% of sales professionals — more difficult than qualifying leads or even closing final sales.
There's no doubt that prospecting does have its challenges — every process does — but it doesn't have to be a source of stress for your marketing and sales teams. With the right tactics and strategies in place (plus the right tools to support them), you can build a well-oiled sales prospecting machine for your business.
The key to your success is a strong sales prospecting plan that outlines the specifics about your overarching strategy and how you'll execute it. That's what we'll explore in this article. We'll cover:
What a sales prospecting plan includes and why you need one
7 steps to building an effective sales prospecting plan
Helpful templates you can download and customize to your company
Let's get started.
Quick Takeaways
Sales prospecting plans keep your prospecting efforts focused, targeted, and consistent.
ICPs and buyer personas should be created to inform your targeting strategy.
Sales prospecting goals and preferred communication channels should always be clearly defined, and will vary depending on the company, audience, and solution.
Lead qualification checklists, sales messaging guidelines, and sales scripts are a few of the key resources companies include in their prospecting plans.
Sales prospecting tools are the only way to truly automate and scale a prospecting strategy without sacrificing quality.
HubSpot and Appvizer (among others) provide free sales prospecting plan templates that you can customize for your company.
What is a sales prospecting plan and why do you need one?
A sales prospecting plan defines the tools, tactics, processes, and strategies you'll use to identify high-potential prospects in your target market. It should be specific and detailed, designed to provide an overarching view of your prospecting efforts while also serving as a point of reference that guides effective execution.
Sales prospecting plans include important things like:
Descriptions of best-fit customers
Defined audience segments and messaging
Goals and KPIs
Preferred communication channels
Qualification criteria
Execution steps and deadlines
Sales teams need prospecting plans to keep their efforts focused, provide a baseline against which to measure performance, and ensure prospecting efforts are ultimately building a healthy pipeline of potential customers.
Without a plan in place, companies risk spending time and money on ineffective or inconsistent tactics, thus missing out on opportunities to win new customers and drive revenue growth.
Building an Effective Sales Prospecting Plan: 7 Simple Steps
Create ideal customer profiles and buyer personas
Ideal customer profiles (ICPs) and buyer personas describe your best-fit customers and help you target your sales prospecting plan appropriately.
ICPs describe organizational characteristics like company size, budget, location, industry, and current IT maturity. Personas describe the decision makers within those organizations who will ultimately decide whether or not to purchase your solutions.
Both are important prospecting tools, but they help in different ways. ICPs help you cast your net in the right place, targeting buyers that need your solutions and have attributes that align with what you offer.
Buyer personas inform sales execution, ensuring that you have access to people within B2B buyer organizations who have actual purchase power and can align your messaging with their unique priorities.
Set your prospecting goals
Goals are a critical component of just about every business initiative, and prospecting is no exception. Your specific prospecting goals and the KPIs you use to measure them will depend on your industry, offerings, and a variety of other factors.
For example: An SaaS company may set a goal of scheduling five product demos per week, while a small boutique consulting services company may schedule 10 sales meetings per month. The same SaaS company may aim to generate 2000 leads/month, while the consulting company aims to generate 200 with a highly individualized strategy.
The important thing is to set goals that make sense for your business, get specific about what they are, and decide on clear, measurable KPIs you'll use to track your progress.
Determine your communication channels
Like goals, your communication channels will depend on your company, your offerings, and your audience. Some companies lean heavily on email marketing and social media, while others generate a large number of leads from in-person events. Some may use LinkedIn exclusively and others may have target customers more suited for platforms like Facebook or Twitter.
To decide on the right channels for your sales prospecting plan, you need to consider both your customer and your company. Refer back to your ICPs and personas, and conduct buyer research to understand the channels they're using to search for solutions.
Think also about the tools and skill sets you have internally and which channels align best with them for effective sales communication.
Build a qualification checklist
What constitutes a qualified prospect for your sales team? You should be able to answer this question clearly and develop clear qualification criteria to assess individual prospects as they enter your pipeline.
The most effective way to do this in practice is with a checklist shared between marketing and sales. While not every criterion will share the same level of importance (you can use a lead scoring model to determine those details), you should set expectations around which ones are non-negotiable.
Develop sales messaging and scripts
Whether it's an email marketing campaign, a video prospecting call, or a prospect follow-up conversation, every sales communication that's part of your prospecting plan should have intentional messaging built on prebuilt scripts. Scripts are a key part of sales enablement that keep your sales process consistent and help reps execute effectively.
Your marketing and sales team should work together to develop messaging and scripts that can be used at every part of the prospecting process, and they should be accessible to your teams in your CRM or via another shared repository for resources.
Adopt a sales prospecting tool
Sales prospecting tools are the only way to automate and scale the prospecting process to meet modern business demand without sacrificing the quality of your strategy. They take a data-driven approach to finding the right prospects for your business and can integrate directly with other key tools in your arsenal (like your CRM or email marketing platform).
Sales prospecting tools also provide a centralized place for your prospecting plan and data to live so you know that no important execution step or potential customer gets lost in the mix.
Create a detailed execution plan
Your actual execution plan should be a visible and shared document that outlines everything about your sales prospecting strategy, including:
Tasks, deliverables, deadlines, and persons responsible
Goals, KPIs, and progress to both
Links to scripts and other sales enablement materials
Sales scenario guidelines
Lead qualification criteria and checklists
Your sales reps and everyone who plays an important role in your sales prospecting efforts should know about your execution plan and view it as an ongoing resource — a document that your entire team uses to stay aligned over time.
Sales Prospecting Templates that Can Help
Fortunately, you don't have to reinvent the wheel when it comes to creating a sales prospecting plan. Below are a few of the best free templates we found that you can download and customize to your company and strategy.
HubSpot's Prospecting and Objection Handling Guide takes you through critical steps in the prospecting process, including how to handle common sales objections and other best practices and tips to make part of your sales prospecting plan.
While this guide isn't in an editable template, there are multiple templates included within the guide that you can replicate, as well as links to other helpful resources and tools.
Another option is to use a straightforward template like Appvizer's that allows you to simply fill in your company's information. This template is especially helpful if you're building a sales prospecting plan for the first time and/or you're looking for a resource to jumpstart the creation of a new plan.
Over to You
Looking to level up your sales prospecting strategy? RevBoss can help. Our outbound email software and lead generation services are custom-built for startups, consultancies, marketing agencies, and other B2B organizations.
Schedule a quick call with us and find out how we can help you win more clients.