7 Smart Ways to Scale Your Lead Generation Strategies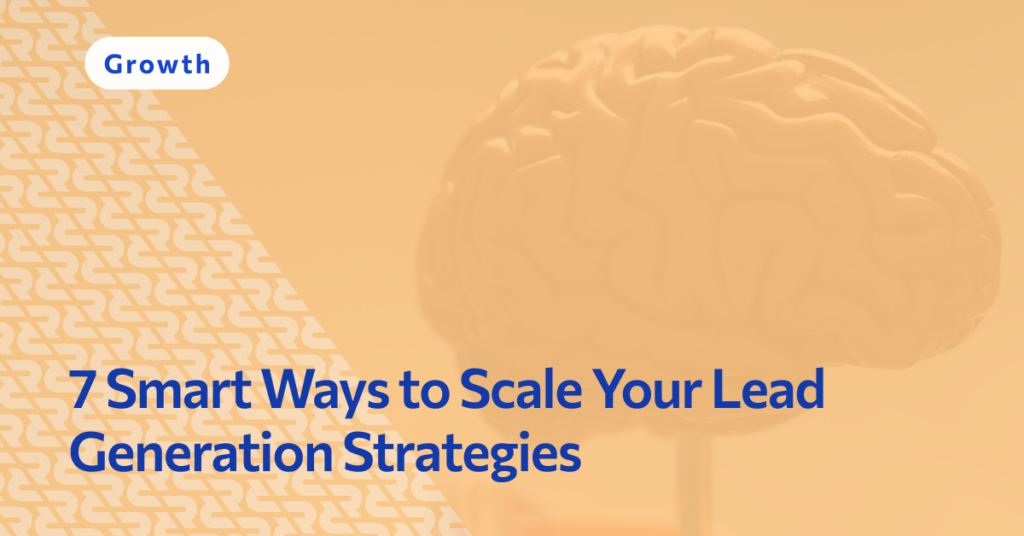 How do you scale lead generation? It's an important question for every kind of business — new startups looking to grow, small businesses generating leads on a budget, and even large corporations working to keep their pipelines full. Most marketing teams know what goes into an effective lead-gen strategy, but if it isn't scalable you'll likely still fall short of your goal.
In this guide, we'll explore 7 smart ways you can scale your lead generation strategy, all while optimizing costs and reaching the leads most likely to convert to sales.
Let's dive in.
Quick Takeaways
Companies using marketing automation both generate more leads and see higher conversion rates than those that don't.
Social media helps companies scale lead generation through automated posting capabilities, targeted content algorithms and ad programs, and the ability to build a large following at low or no cost.
Content is a central part of every lead gen strategy and is crucial to brand visibility.
Repurposing old content helps scale lead gen and boosts ROI on content creation.
Industry events like online webinars, trade shows, and conferences allow your sales team to build networks of high-potential firsthand contacts.
Outsourcing key marketing and sales functions is one of the best ways to reliably scale lead gen and optimize cost and efficiency.
Invest in Marketing Automation
Marketing automation is a no-brainer for marketing teams today. Not only does it help generate leads faster, more seamlessly, and at scale, it delivers data-driven insights not possible to obtain using manual approaches to lead-gen. These insights then drive smarter decisions and the ability to continually improve your strategy for better results.
Some examples:
Targeted ads — Automatically track user behavior and target display ads based on buyer interests and needs.
Automated email — Prospecting and lead nurturing emails can be triggered by buyer behaviors along the pipeline and then follow a pre-defined cadence for follow-up.
Lead scoring — Leads are automatically analyzed and scored as they enter your CRM so your teams can prioritize and qualify them appropriately.
Optimized timing — Analyze intent based on behavior data to pinpoint the optimal time for marketing or sales outreach.
These are just a few examples. Research has shown that automation not only enables scalability but also has a direct impact on lead volume and conversion rate — 80% of automation users saw an increase in leads and 77% saw an increase in conversions.
Get Active on Social
Social media has become a central part of the way buyers interact with brands — buyers are looking to brands on social platforms for everything from product/service research to news to entertainment to discounts to customer service and more.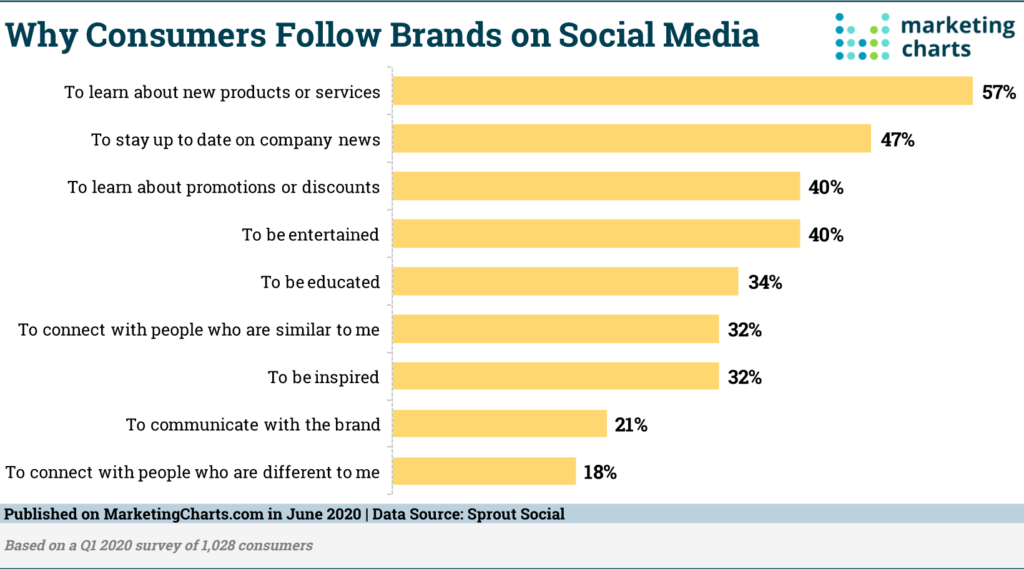 Social media helps brands scale lead generation in a few key ways. First, posting can be largely automated so you can stay extremely active on social without it being a time suck for your team. Second, there are no limits to your potential following — even smaller brands have built followings in the millions.
Third, social media platforms have built-in targeting capabilities (like algorithmic feeds and targeted ad programs) that help you expand your reach to your target audiences.
Optimize Your Content for Search
More than 90% of all online experiences start with search. "Googling" has become a verb and we ask voice-search assistants for everything from directions to song requests to — yes — brand recommendations.
Beyond direct requests, search inquiries related to business questions, challenges, and needs are leading B2B decision makers to brands that have solutions to help. Optimizing your content for search gives you a huge boost in visibility and allows you to demonstrate how you can add value even before a buyer is ready for purchase.
While content creation can be time consuming (most companies outsource it to some extent), the ROI it collectively earns back is exponentially bigger than the investment in creating it.
Repurpose Your Best Content
Speaking of content, one of the best ways to use it to scale lead generation is by repurposing your best-performing "old" content — content you've already published but that has potential to be shared on new channels or recreated in a new form.
Some examples: A brand might hold a few online webinars per year that take considerable time and effort to plan, but then create landing pages for the recordings that earn new leads for an unlimited period of time afterward. They might turn popular podcasts into blog posts (which in turn drive traffic back to the podcast).
They could create how-to videos from the best-performing guides in their blog library, or design social media graphics with expert tips sourced from a blog article.
In every case, you're creating an extra opportunity for lead engagement without having to reinvent the wheel. In many cases, you have a direct opportunity to collect contact information (like through a webinar landing page) and generate a new lead.
Launch a Referral Incentive Program
Referrals are an extremely powerful driver of B2B business. Buyers want recommendations from their peers before they make big purchase decisions, and their vendor selections are directly impacted as a result. In fact, 75% of buyers say word-of-mouth referrals are a key influencer in their final decisions.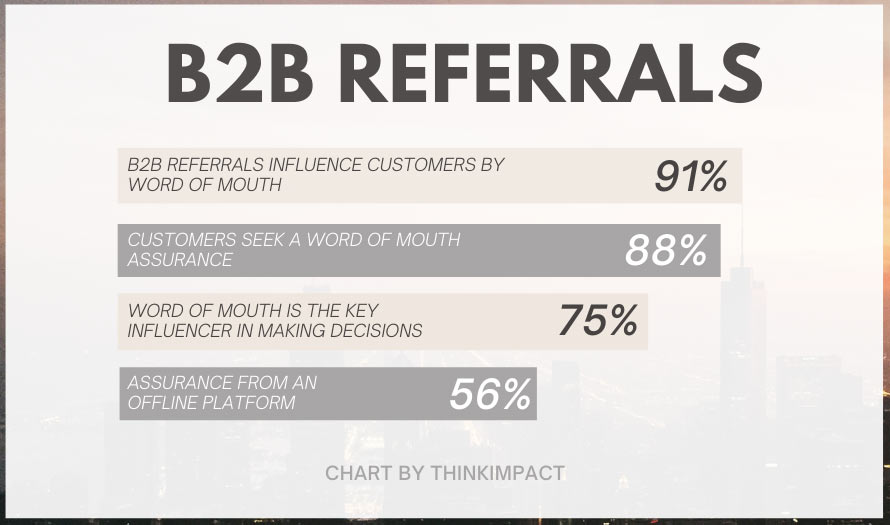 Fortunately, you don't have to leave referrals up to chance. By launching a B2B referral incentive program, you can encourage your current customers to recommend your brand to their peers in exchange for a specific benefit, like a discount or extra service provided.
Participate in Industry Events
B2B events are alive and well — perhaps more than ever now that they're happening regularly both online and in person. Events give your sales team the opportunity to engage in some good old-fashioned networking, building connections that can turn into leads.
When your sales reps attend events regularly, you also build a network of firsthand contact over time that can be further explored for lead opportunities but also partnerships and other business relationships.
The types of events best for your brand will depend on your industry and audience, but many organizations choose to participate in a combination of online webinars and in-person events like trade shows and conferences.
Even better? Most events feature industry experts and thought leaders that can educate your sales team on trends and best practices. It's a win-win.
Outsource for Greater Efficiency
When you feel like you're doing all you can but scalability is still out of reach, outsourcing can be a great option for certain marketing and sales functions. Prospecting and lead generation, appointment scheduling, pipeline management, sales outreach, and top-of-the-funnel response services (think info@ email inquiries or chatbot support) can all be outsourced.
The benefits are numerous — access to expert teams, bundled service packages, cost savings, higher efficiency, frequent performance reporting and more.
And if you're worried about the loss of control that comes with outsourcing, not to worry. A great lead generation agency will get to know your brand and work in partnership with you to help you reach your goals.
At RevBoss, our outbound email software and lead generation services are custom-built for startups, consultancies, marketing agencies, and other B2B organizations. Schedule a quick call with us and find out how we can help you win more clients.