The Pros and Cons of Outsourcing Lead Generation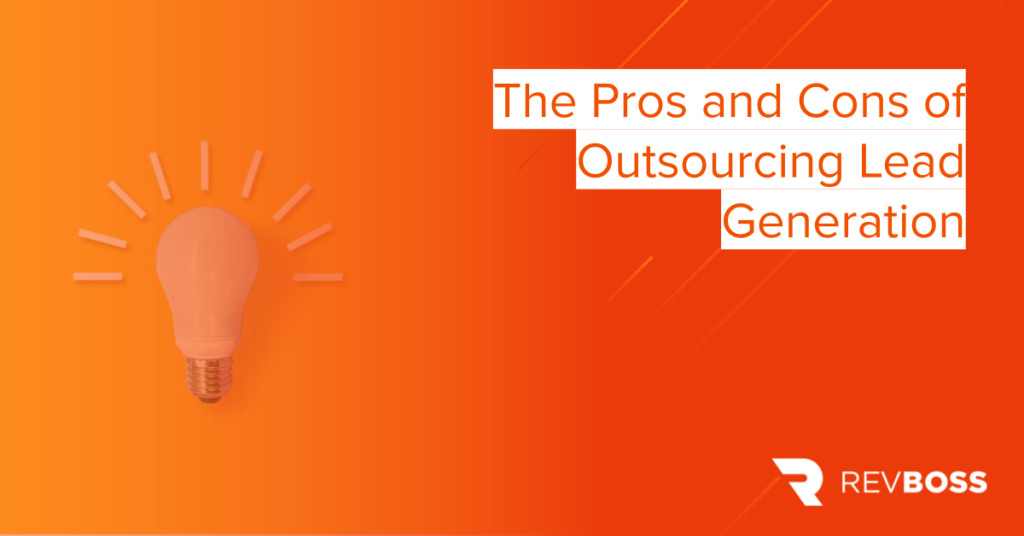 Well over half of all U.S. companies — 60% — now outsource at least one business function, and given that generating leads persists as the top marketing challenge faced by companies across industries, more and more companies are looking at lead generation outsourcing as a potential way to grow their business. 
But should you outsource lead generation?
You'll find plenty of content on the subject that focuses on the economics of outsourcing, but the truth is that it's different for everyone. Outsourcing can save significant costs and pays off in the form of lead-gen ROI, but it also requires an initial up-front financial investment.
Whether you're just getting started with outbound sales or you've been doing it for years, you'll need to crunch your numbers to determine if outsourcing is possible and practical from a budget perspective.
In this guide, we'll talk about lead generation outsourcing from our own experience, plus how to ask the right questions to help you make the right decision for your business. Here at RevBoss, we started out as an outsourced lead generation agency and have since become a sales development company. That means no matter where you land on the issue, RevBoss can help!
Quick Takeaways
By outsourcing lead generation, companies access quicker implementation capabilities as well as top lead-gen tools, technologies, and expertise.
Greater operating flexibility and the ability to adapt are the top-rated benefits of outsourcing by companies across industries.
Lead-gen service providers require time and collaboration from you as the customer in order to deliver fast time to value and maximize results over time.
Some drawbacks of outsourcing lead gen include lack of in-house process development and initial implementation time and costs (which are higher at the start).
Outsourcing Lead Generation: The Pros
Quick implementation
Vendors have perfected their process to get clients up and running right away — at RevBoss, it happens in less than two weeks! From startups looking to jumpstart growth to established large companies wanting to give their sales a boost, this kind of fast launch is awfully convenient.
Not only can you expect faster time to value on your lead-gen efforts, you know you're using a tried-and-true process that's already worked for other organizations.
Access to lead-gen expertise
Outsourcing lead generation means you're working with professionals whose focus is all lead gen, all the time. You get access to experience and expertise that spans many industries, types of organizations, and market scenarios. This is one of the things that makes outsourcing so attractive even for small and/or startup companies.
Lower risk
Initiatives like new product launches or market expansions come with inevitable risk, and for many companies, the last thing they want to do is add more by launching a prospecting or lead gen strategy that may or may not pan out successfully.
When you want to be able to keep your focus on other strategic initiatives and execute with confidence, outsourcing lead generation may be the way to go.
Increased lead-gen scalability
The past few years have shown companies more than ever the importance of being able to react quickly to market changes. With an outsourced lead-gen strategy, you can scale your efforts up and down as needed without having to worry about carrying internal costs (like full-time salaries and benefits) or complicated lead-gen infrastructures.
This ability to operate with greater flexibility and adapt quickly to changing market conditions is currently the #1 reason companies outsource across industries and functions.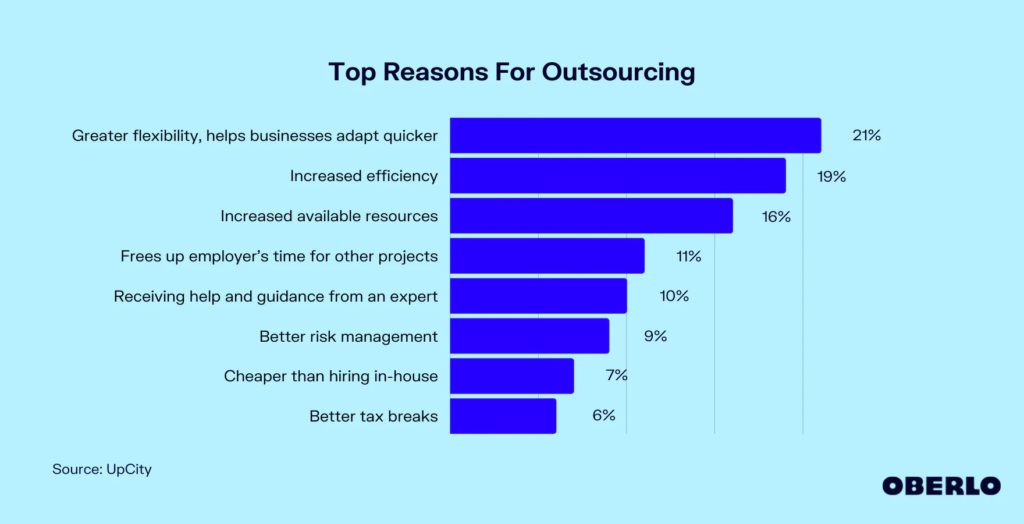 Cost savings
Outsourcing saves you the headache — and expense — of setting up the tools and team you'll need to execute lead generation in house. At the same time, you get access to bundled products and services for an end-to-end lead-gen strategy at a single price.
Over time, this streamlined model allows you to reallocate money you'd otherwise spend on running your own lead-gen efforts to other strategic initiatives for higher overall ROI.
Outsourcing Lead Generation: The Cons
Lack of in-house process development
It goes without saying that in choosing to work with a third party, you're effectively choosing not to build a process in-house — which means that you're not going to develop the process, know-how, and experience on your team. This isn't necessarily a bad thing, but it is a trade-off that you need to consider.
Hit to Your Budget
While we know that outsourcing saves you money over time, there's no getting around the initial investment. You'll need to be ready to handle the up-front costs of hiring a lead generation agency and setting up your strategy, which not every company can (or wants to) do.
Outsourcing still requires work
Outsourced lead generation providers aren't magicians — they're very good at the process but will still require time and attention from you, the customer. The models below show how strong collaboration can shorten your time to value when you hire someone to handle your lead gen.
In the first model, there's a delay in value as the vendor works out how to deliver unique value to your organization. In the second model, strong collaboration drives a gradual but consistent rise in value after the initial deal is made.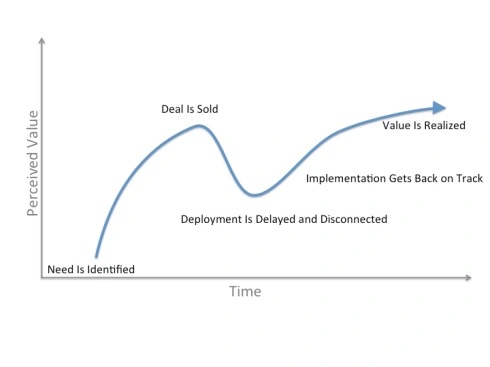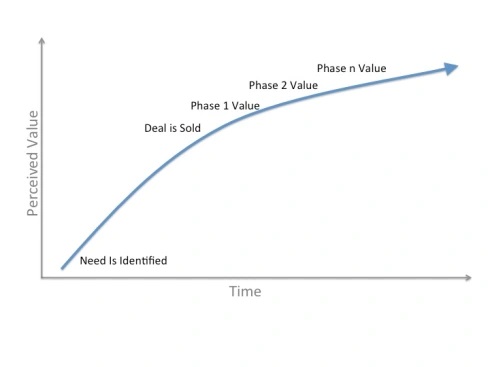 Good partners need help at the outset and should quickly find a groove. But if you're not able or willing to put in the time and effort required to get a partner up to speed, you'll likely experience delayed or less-than-stellar results.
Lost culture
A team of lead-gen hustlers can do wonders for your team culture — done well, an in-house lead generation team generates energy, emotion, and velocity that can feed other areas of your business. While you save on the cost of an in-house team by outsourcing, you miss out on the impact of its day-to-day presence.
Less company/product/service knowledge
No one quite knows your products or services like your own sales team. Lead gen providers are savvy at getting up to speed on their clients' offerings and representing them well, but it doesn't replicate the nuanced and complete understanding your own team maintains. That's why it's critical to look at outsourcing as a partnership — one that you'll actively participate in to keep it aligned with your brand.
How to Decide If You Should Outsource Lead Generation
The decision to outsource hinges on the ROI you foresee it bringing to your organization coupled with the right timing and readiness. The questions below can help you determine if outsourcing is best for your business right now:
Are you ready for outbound sales development? If not, get ready before you consider lead gen outsourcing.
Do you have the budget and time to commit? Remember, you'll need to make an upfront financial investment and spend time with your lead-gen provider (especially during the first few weeks) to get the strategy right.
Do you have a well-defined target market and repeatable sales process? If not, an outsourced lead-gen partner can help you do this quickly to maximize revenue.
Does your team know how to build a sales process and team? If not, you'll likely need to outsource lead gen in order to grow.
Is your current strategy lacking in results? Even if you've got an established lead-gen and sales strategy in place, you may want to outsource to give it a boost.
As you can see, the decision to outsource lead generation (or not) is about more than just affordability — it requires a qualitative and quantitative evaluation of your current strategy and resources, sales goals, and organizational preferences.
How RevBoss Can Help You Grow
Maximize your lead-gen potential and power your pipeline with a strong sales prospecting strategy — one supported by tools and services like the ones we offer at RevBoss.
Our outbound email software and lead generation services are custom-built for startups, marketing agencies. consultancies, and other B2B organizations to help them grow.
Schedule a quick call with us and find out how RevBoss can help you win more clients.