5 Tech Marketing Trends That Will Rule in 2023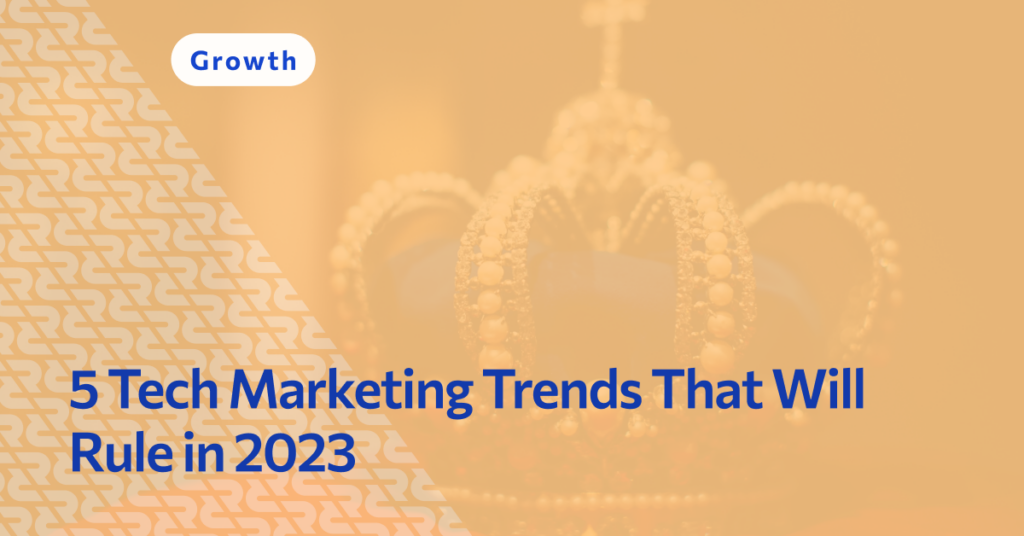 Tech marketing trends are always evolving, and 2023 has been no different. With more tools, channels, and technologies available than ever to execute digital marketing strategies, companies need to stay on top of new trends and buyer behaviors in order to stay competitive.
In this article, we'll cover 5 can't-miss trends we're seeing so far in 2023 — including those around video, data, AI, personalization, content, and more — plus how you can execute each to boost lead generation and sales results.
Quick Takeaways
More than 90% of people want more video content from brands. Short-form video and prospecting videos are two types gaining traction.
Personalization is now the marketing status quo. Buyers expect it at every stage and are disappointed when they don't experience it.
With Google's phase-out of third-party cookies, marketers are refocusing on first- and second-party data.
AI plays a key role in both the way companies communicate with buyers (ex: chatbots) and the way they understand them (i.e. analytics).
High-quality content continues to be a top priority for brands in every industry.
Video Stays on the Rise
If you're a tech marketing trend watcher, you know that video has been on the rise for a few years now. In fact, spending on video advertising more than doubled between 2019 and 2022 and is expected to jump significantly again in 2023.
At the same time, user demand for video is growing — 91% of survey respondents in a recent study say they want to see more video content from brands in 2023.
And while video has been a consistent trend, the ways that brands are using it continue to evolve. Right now, short form video and video prospecting are two tactics gaining traction in the B2B space.
Short form video is video content under 2-3 minutes long and is typically shared through social media channels. Common types include behind-the-scenes "stories," product and event teasers, past event highlights, messages from executives, and press release announcements.
Short-form video works because it matches the short attention spans of scrolling online users and doesn't require a huge time commitment from buyers doing their purchase research.
Video prospecting is a video sent within the body of a prospecting email. Sales reps record a unique message for each prospect to deliver truly personalized outreach. It can be used as a cold outreach strategy, follow-up to discovery calls, or a way to re-engage fading leads.
Companies are fitting this tactic seamlessly into their sales processes by using branded templates to automate part of the video creation process and make it easy for sales reps to add in personalized content before sending.
Personalization Becomes the Status Quo
Personalization was once a nice-to-have during the buyer experience — something brands aimed to deliver for the highest-potential leads in their sales pipeline. Today, however, personalization is the status quo. Buyers aren't just happily surprised to receive a personalized experience, they expect it at every stage of the journey.
Salesforce research found that 84% of buyers say being treated like a person, not a number, is "very important" to winning their business (true for both B2B and B2C buyers). McKinsey research found that 71% of consumers expect personalization and 76% become frustrated with brands when they don't receive it.
Companies now need to find a way to deliver end-to-end personalized experiences across their buyer journey with targeted content, AI- and automation-driven outreach, and solid knowledge of individual audience needs.
Brands Refocus on First- and Second-Party Data
The "cookiepocolypse" has already begun — Google, Bing, and other search engines are phasing out the use of third-party cookies to track user behavior online. It's creating the need for a huge shift in the way digital marketers operate.
As a result, companies are revamping their strategies to focus on first-party data, or information voluntarily provided by users so that companies can communicate with them, and second-party data, or information provided by another company (like an email list).
Ways to collect first-party data include:
Subscription or content download forms — Users complete a form either to subscribe to a newsletter or download a content asset (like an e-book, for example)
Surveys and polls — Ask users survey or poll questions through your website, during online events, or on social media.
Single sign-on (SSO) — Users sign in on their browser through Google or social media accounts and you gain access to certain information as a result.
Progressive profiling — After initial information is shared, you gradually ask for more relevant information throughout the buyer journey.
Second-party data is usually purchased from a non-competitive company (like a lead aggregator company), but unfortunately gets a bad rap thanks to some non-reputable organizations who fail to meet data privacy, compliance, and/or quality standards. It's important to know that you can access second-party data from responsible providers who take the right access steps.
Working with a professional sales prospecting agency can help you access the right providers and be confident in the second-party data you use to execute your outbound strategy.
AI Plays a Key Role
Artificial intelligence (AI) is playing a key role both in the way companies communicate with their audiences and understand them.
AI chatbots in particular are helping companies provide the level of immediate service buyers now expect from potential vendors. According to HubSpot research, 82% of consumers rate an immediate response as "important" or "very important" when they have a marketing or sales question (defined as within 10 minutes or less).
Of course, this is impossible to execute manually, especially given that buyers may do some of their research outside of normal business hours. Chatbots power 24/7/365 responses to buyers whenever they need a question answered.
AI also powers data-driven decision making, a key capability for modern organizations as they navigate fast-paced, often uncertain, and continually-changing markets.
Most software tools you use to execute your marketing and sales strategy (like your CRM, email marketing system, and business intelligence platform, among others) have AI capabilities embedded within them to enable sophisticated data analysis, predictive analytics, and informed, agile decision making.
Today, Salesforce estimates that 62% of marketers are using AI regularly in their strategies and that this number will continue to grow.
. . . but High-Quality Content Still Wins
And what about content? It's ruled the digital marketing world for upwards of a decade, but with so many new trends on the horizon, is content really still important?
The answer is a resounding yes. The overwhelming majority (more than 90%, by most estimates) of online experiences start with search, and Google owns more than 90% of the search engine market. If you aren't creating and publishing relevant, high-quality content on a consistent basis, your brand is likely invisible to your target audience.
But like most other tech marketing trends, quality expectations for content marketing are more intense than ever. Today, companies need to deliver hyper-targeted content to each of their audiences (which requires strong ICP and buyer persona knowledge) as well take a multichannel approach to meet their buyers on their preferred platforms.
Final Thoughts
Considered collectively, these tech marketing trends provide an important takeaway to keep in mind as you build your future strategies: one-size-fits-all tactics are no longer enough in today's competitive environment.
To succeed, you'll need to balance high levels of personalization, targeting, content quality while also executing at the scale required to be competitive.
Working with an agency is one of the surest ways to accomplish this while being able to stay focused on other important mission-critical activities. At RevBoss, our outbound email software and lead generation services are custom-built for startups, consultancies, marketing agencies, and other B2B organizations.
Schedule a call with us and find out how we can help you win more clients.