The A to Z Guide to B2B Lead Nurturing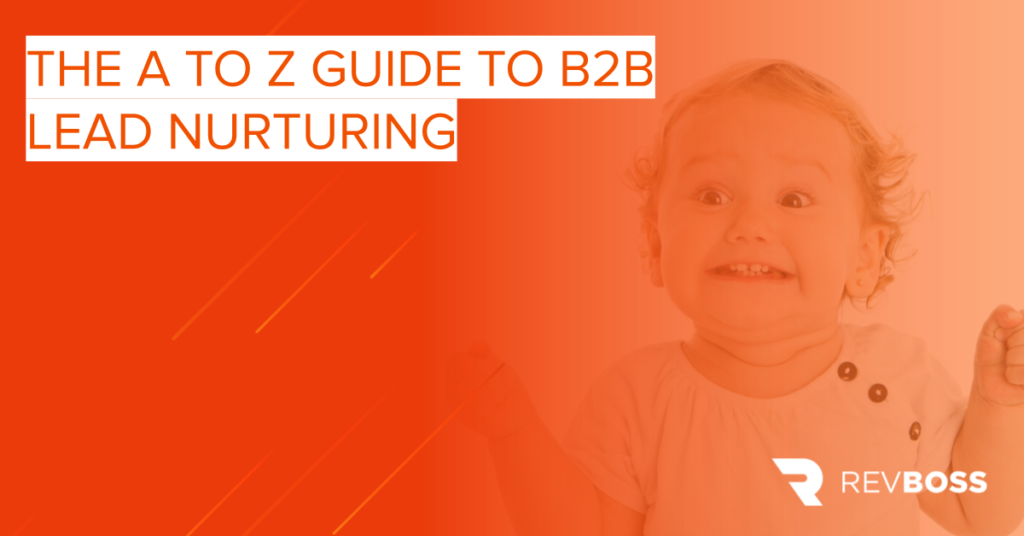 B2B lead nurturing is the bridge between the time when a lead initially shows interest in your company and when they make a purchase. It guides your prospective clients through the sales process, keeping them engaged, informed, and enthusiastic about what you have to offer.
It also has a lot of moving parts. B2B lead nurturing involves both your marketing and sales team. It encompasses multiple communication channels. It requires a documented strategy and execution plan.
So where do you start?
In the sections that follow, we'll cover everything you need to know about B2B lead nurturing, its benefits, and how to execute it effectively to earn more sales.
Quick Takeaways
B2B lead nurturing happens primarily in the middle of the funnel and is a shared responsibility between marketing and sales.
It generates 50% more sales-ready leads at a 33% lower cost.
Content shared through lead nurturing demonstrates value and builds buyer trust.
B2B lead nurturing is most effective when it encompasses multiple channels.
CRM systems and other software tools are essential to execute lead nurturing at scale.
What is B2B lead nurturing and why is it important?
B2B lead nurturing is the process of cultivating leads in your pipeline that are not yet ready to buy. It occurs primarily in the middle of the funnel, after interested leads have engaged directly with your company in some way (like by sharing their email address) but before they get to the final stages of the sales process.
The middle of the funnel is covered by both marketing and sales at most companies. This means that lead nurturing is a shared responsibility — one that requires steps to align both teams and ensure leads never fall through the cracks.
There are certain steps — like lead qualification and sales acceptance — that help to bridge this common gap between marketing and sales. We'll go over them in more detail later.
For now, in the next section, let's walk through some of the most important benefits companies experience when they execute strong lead nurturing strategies.
Benefits of B2B Lead Nurturing
Keeps your brand top-of-mind
Even after you convert a lead, you're still in competition with other top providers in your industry. Most B2B buyers research 2-3 provider websites before they make a purchase, and about a third visit 4-7.
This means if your company falls off a lead's radar during this time, you're likely to lose them to your competitor. Lead nurturing prevents this from happening. It keeps your leads engaged with your brand and encourages them to keep moving through the sales process.
Demonstrates value
B2B lead nurturing is a continual demonstration of the value your company can bring to potential customers. By sharing content, email messages, and information about your products and services, you build a strong impression with the leads in your pipeline without having to make a hard sell.
This kind of content sharing will become more critical in the future as the B2B sales process becomes more customer-owned and salespeople play a role even later in the process. Gartner predicts that by 2025, more than 80% of B2B sales interactions will happen through digital channels.
The online content potential customers interact with during the lead nurturing stage — and the value it demonstrates — play a key role in their ultimate buying decision.
Builds stronger customer relationships
Consistent communication throughout the B2B lead nurturing process cultivates more than just purchase intent: it builds trust in your company. According to Forrester research, trust is the single most important brand attribute for B2B buyers. It's no surprise, given that B2B purchases often come with a significant financial investment and implications for the larger organization.
But it's critical for marketing and sales teams to remember. Building trust — the foundation of the B2B customer relationship — begins not after purchase, but during lead nurturing (and even earlier when buyers encounter your company online).
Earns more conversions, sales, and revenue
Lead nurturing not only builds strong customer relationships, it impacts your company's bottom line by bringing in higher revenue. Consider these statistics:
Lead nurturing emails are 4-10x more likely to be opened than standard email blasts
Nurtured leads present an average 20% increase in sales opportunity and make 47% larger purchases than non-nurtured leads
Companies that execute a strong lead nurturing strategy earn 50% more sales-ready leads at 33% lower cost
How to Execute B2B Lead Nurturing Successfully
Know your target audiences
Each of your target customer segments have different pain points and needs. Your B2B lead nurturing strategy should reflect that. Refer back to your ICPs and buyer personas for guidance. Think about ways you can target specific content and messaging to resonate most with each group. Tailor your lead nurturing approach to be as relevant as possible for each.
Define your lead qualification process
Because the middle of the funnel is shared by marketing and sales, and this requires a careful qualification process to ensure leads are in the right hands. Take time to clearly define both the criteria and the process for marketing qualified leads and sales qualified leads.
Think about implementing the go-between step of sales accepted leads, which requires sales to acknowledge and accept every lead passed on to them from marketing (or send it back if it doesn't meet the right criteria).
When your leads are qualified appropriately, you can be sure they're receiving the right kind of lead nurturing content and that no lead ever falls out of the funnel by mistake.
Build your lead nurturing content library
You can build a library of lead nurturing-focused content from your larger content library. Think about what content and messaging would resonate most, both by customer segment and by stage of the buyer journey. Pull content accordingly from your larger library and organize it to be used for lead nurturing campaigns.
Building and maintaining a library sets a foundation for your lead nurturing efforts and ensures your teams are never scrambling for content. It also ensures you're getting the highest possible ROI from the marketing and sales content you create.
For the best results, create a documented plan outlining how you'll use certain content throughout the lead nurturing process. For example, a particular blog post that's always shared in the first nurturing email to C-level leads. Get as targeted as you can so leads find your communications engaging and relevant to their needs.
Use multiple channels
Lead nurturing emails are a huge part of the overall strategy — and an effective one. They earn high engagement and are buyers' most preferred method of communication from brands. But they aren't — at least they shouldn't be — the only channel you're using to nurture leads.
Leads require 6-8 touches on average before they actually convert, and this happens more effectively when they're engaged across the multiple channels they use. Paid retargeting ads, social media marketing, and direct sales outreach should all be incorporated into your B2B lead nurturing strategy.
Use a CRM to track lead activity
Automation is key to executing your B2B lead generation strategy at scale. Leverage your CRM and other software tools (like an email marketing system) to automate tasks, set triggers, and track important KPIs.
CRMs are especially powerful for lead nurturing because salespeople can see where leads are in real-time as they move through the pipeline. Integrate the use of your CRM into your sales process and provide your teams with the right training and coaching to make it an active tool.
Include compelling CTAs
In order to move to the next step, your leads need guidance from you. No matter what channel your lead nurturing message is being distributed on, it should include a clear call to action (CTA) that lets them know exactly what action to take.
Including a single, compelling CTA in your emails and other content can transform your results — marketing research shows that emails with CTAs earn 371% more clicks than those without them.
Over to You
You can't nurture leads until you generate them in the first place. To do it, you need a solid outbound marketing strategy customized to your products and audiences.
RevBoss's outbound email software and lead generation services are custom-built for startups, consultancies, SaaS agencies, and other B2B organizations.
Schedule a quick call with us and find out how we can help you win more clients.