The New Improved SEO Strategy for SaaS Companies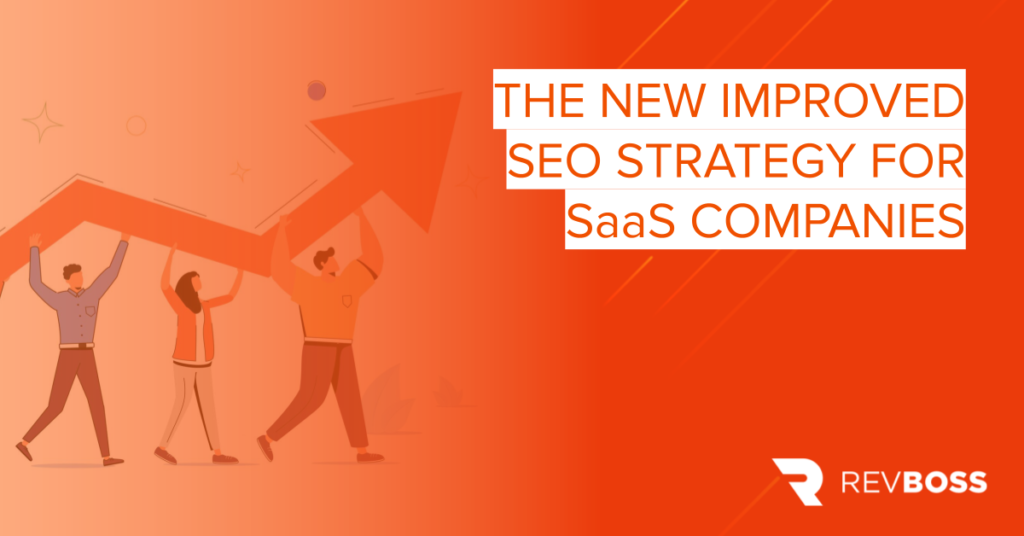 SEO for SaaS companies is perhaps more critical than for any other type of brand.
Why?
Because software companies rely nearly exclusively on online interactions to find and convert new customers. Couple that with some eye-opening statistics — like the fact that 93% of all online experiences begin with search, or that B2B consumers generally conduct 70% of their own research before ever reaching out to a brand — and it's clear why SaaS brands simply cannot ignore SEO as part of their core strategy.
But that's not all. SaaS buyers also have higher expectations for brand authority and expertise than most B2C brands and even other B2B categories. That means SaaS brands have to do more than simply create tons of great top-of-the-funnel content and wait for the leads to trickle in.
In this article, we'll cover 5 new and improved SEO tactics you can implement right away to earn better engagement, more conversions, and higher overall marketing ROI.
Quick Takeaways
Incorporating funnel marketing into your SEO strategy ensures content gets to the right potential customers at the right time.
SaaS brands can use the SEO Keyword Pyramid Framework to effectively cluster keywords and target content across the sales funnel.
Long-form, evergreen content establishes important brand authority and has compounding traffic-earning effects over time.
Backlinks are high-impact for Google rankings but must be earned over time with consistent, high-quality content.
Funnel marketing strategy
Let's go back for a moment to one of the statistics we mentioned earlier: 70% of brand research is conducted before any formal interaction takes place. That means your content is doing much of the work for you, and you need to create pieces that align with buyers at all stages of the B2B sales funnel.
First, let's take a look at what that sales funnel looks like:
As you can see, there are increasing levels of buyer intent and the types of content consumers need as they move through each stage of the funnel. Your SEO strategy should not only aim to include content that aligns with the different stages of the funnel, but that gets to the right potential customers at the right time.
Which leads us to our next tactic: strong keyword research.
Strong keyword research
The SaaS market is saturated online because, well — that's where everyone is doing their marketing. SaaS brands, then, must be as targeted and strategic as possible when it comes to keyword research in order to not only ensure their content ranks on SERPs but also that their content gets to the right potential customer when they need it.
The SEO pyramid is a tool specifically geared toward SaaS brands that helps them organize keywords in ways that align with different stages of the sales funnel and rank for searches being conducted by customers at a particular stage.
Here's what the pyramid looks like:
At the top of the pyramid, you'll find low-volume search terms with high purchase intent. At the bottom, you'll find the opposite — terms with high volume but low intent. Referring to this pyramid is a helpful way to map out your content plan and ensure you're creating enough for each category.
Long-form, evergreen content
Evergreen content is content that will remain "fresh" for readers over a long period of time. Typically, brands create evergreen content around topics that are core to their business strategy and that will always be relevant to their audiences.
For SaaS companies, long-form (2000+ words), evergreen content has a few benefits. First, creating evergreen content like guides and how-to documents on complex topics is a way to provide immediate value for potential customers, many of whom are doing initial research into a problem they're experiencing.
This content also lends itself to higher brand visibility over time as consumers will never stop searching for evergreen keywords. Evergreen content has a compounding effect, meaning that while views may dwindle over time, they'll eventually remain steady and continue to drive traffic long after first being published.
Here's a visual:
Finally, maintaining a library of high-quality evergreen content demonstrates to potential customers who visit your site that you're an expert in your space. Even if they don't read most of your content, seeing it there creates an impression that can make them more likely to revisit your brand when it comes time to purchase a solution.
High-value lead magnets
Lead magnets is a free giveaway (typically downloadable content) offered in exchange for a user's contact information. It's one of the primary ways brands generate leads from the web traffic they earn, and they're also a win-win for both brands and users.
That is, when the lead magnets deliver on what they promise.
There are several different types of lead magnets, including e-books, PDF guides, how-to videos, templates, and webinars.
Great lead magnets help a customer successfully address a need or solve a problem without giving away everything they'd need from a brand. They build trust and create opportunities for brands to follow up strategically with potential customers. When done right, they increase the overall ROI of your SEO content, generating leads and increasing conversions.
Backlinks from other brands
We'll round out our list with one more way to establish important brand authority and presence online: by building backlinks. Backlinks are when other brands link back to your content from their website (often in blog posts). Backlinks demonstrate social proof and send the message that consumers can trust your brand because other established companies already do.
To earn backlinks, however, you really have to play a long game. It doesn't happen overnight, but once it does it has long-reaching impacts (including better rankings from Google, which considers backlinks a sign of authority). The most effective way to earn backlinks is by publishing consistent, high-value content that is usable across a wide range of relevant topics in your industry. At the time same, use backlinks in your own content to brands who you trust and would want to see backlink your content in return.
Over time, you'll start to gain momentum. Once your brand has an established presence, you'll see your backlinks continue to grow with less active focus on your part.
Let's recap
Use a funnel marketing strategy to align your content with each stage of the B2B sales funnel. This ensures your content will reach potential customers at the right time.
Conduct strong keyword research. Use the SEO Keyword Pyramid Framework for SaaS to organize your keywords and balance your content.
Create long-form, evergreen content that establishes authority and produces compounding effects over time.
Use high-value lead magnets to provide value to potential customers while getting their contact information in return so you can follow-up.
Focus on creating consistent, high-quality content and using backlinks in your content to earn your own backlinks from trusted brands over time.
Our outbound email software and lead generation services are custom-built for startups, consultancies, marketing agencies, and other B2B organizations. Schedule a quick call with us and find out how we can help you win more clients.