The Worst B2B Marketing Mistakes You Could Be Making in 2022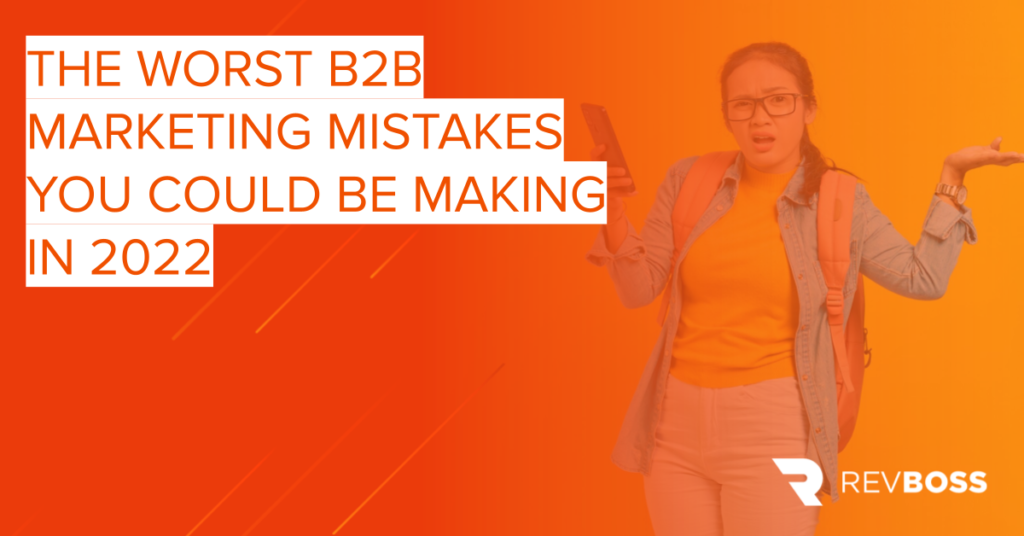 Today's B2B buyers are savvier than ever before. They do their own research, and they enter the buying process armed with information marketing and sales teams previously had to provide.
This means companies need to up their game when it comes to marketing — and that common B2B marketing mistakes may have a bigger impact than they did in the past.
In this article, we'll explore 7 common B2B marketing mistakes and actionable steps you can take to avoid them.
Quick Takeaways
Every B2B company needs to know their ideal client profiles (ICPs) and buyer personas.
SEO and content marketing are used by 91% of B2B marketers in 2022.
A sloppy email strategy can negatively impact your brand credibility.
More than half of B2B marketers use data to make decisions most of the time.
Current customers should be included as a customer segment in your B2B marketing strategy.
7 B2B Marketing Mistakes to Stop Making in 2022
Not Knowing Your Customer
Your solutions are not for everyone — and that's a good thing. Trying to serve too general of an audience takes away from the unique value you can provide for customers. One of the worst marketing mistakes you can make, then, is failing to truly understand your target customer(s) and their needs.
There are two proven frameworks you can use to discover your target customers: the ideal client profile (ICP) and buyer persona. ICPs identify the traits of organizations that can benefit most from your solutions. Buyer personas define who the decision makers are within those organizations so that you can segment and tailor your marketing messages to each.
Making it All About Your Products
Old school marketing was all about products and features. Advertisements and sales pitches focused on all of the things that made products so great, without paying much attention to the customer.
Today, B2B buyers are too smart and too informed for that kind of message. By the time buyers reach out directly to your company, they've likely completed more than half of their due diligence research. They already know about your products — and they also know about your competitors.
To maximize your B2B marketing ROI, quit focusing on your product and instead emphasize your buyer's pain points and needs. Whenever possible, target your messaging to resonate with the unique needs of every customer segment. Focus your marketing messaging on value rather than features so buyers can see the ROI of their potential investment.
Ignoring SEO and Content Marketing
SEO and content marketing have become ubiquitous in the digital marketing world — 91% of B2B marketers (and 86% of B2C marketers) say content and SEO are part of their strategies.
To boot, 93% of all online experiences — including brand research — begin with a search engine. If you're not using SEO tactics to earn Google search rankings, you're likely invisible to your potential customers.
If you haven't already, implement a content marketing strategy. Start with a blog and landing pages to generate new leads and traffic. You can then build on your success with other types of content like videos, ebooks, infographics and more.
Having a Sloppy Email Strategy
Consumers in both the B2B and B2C sectors prefer email over all other methods of brand communication. But they also have higher expectations for its quality than ever before. If you aren't properly managing your email lists, personalizing your messages, and following email marketing best practices, your messages are likely being sent to spam and hurting your brand credibility.
Some quick tips to follow:
Know (and adhere to) the CAN-SPAM act
Only email subscribers who have given consent
Honor unsubscribe requests
Make your emails well-designed, engaging, and valuable
Don't send too many emails
Segment your messaging by customer group
Personalize whenever possible
Launch well-planned, multi-message email campaigns
Not Taking a Data-Driven Approach
Business today is all about big data. Data informs companies about their customers, their finances, and of course their marketing and sales performance. As a B2B marketer in 2022, you should be using data not only to measure success but to make strategic decisions.
Failing to do so could leave you lagging behind your competitors — 60% of marketers report that they use data to make decisions "always" or "most of the time." Only 8% use it "very little" and 3% "never."
Some examples of how to use customer data to drive marketing decisions:
Look at customer demographics from web visitor data to target messaging
A/B test all emails and look at engagement data to optimize in the future
Analyze web visitor behavior to improve website performance
Use individual customer data to personalize email campaign messages
Track purchase history to make product recommendations
Not Using Responsive Design
Responsive design means optimizing web content and design for multiple device types. More than half of online traffic is happening mobile in 2022, and a common B2B marketing mistake is assuming that professionals are still only operating on PCs.
Connectivity is such that people can do their B2B research from anywhere — a desk, certainly, but also a booth at a restaurant, at home on the couch, or from the train on a long commute. If your website is slow to respond on smartphones and tablets, you could be turning buyers away (and sending them unintentionally to competitors).
Here's an example of a B2B landing page built with responsive design. As you can see, its design varies slightly for each device to optimize appearance and usability.
Not Including Current Customers
Perhaps the biggest B2B marketing mistake a company can make in 2022 is not including current customers in your strategy. There are a few reasons why.
First, current customers can continue to be new customers in the form of upselling. As they get value from the products they already purchased, they're more likely to be interested in add-ons or upgrades.
Second, you can create marketing content specific for current customers that doesn't focus on product sales and instead aims to keep them engaged — think email newsletters, tips for getting the most value from products, helpful blog posts, and the like.
Finally, your current customers have potential to be your biggest advocates. In fact, 83% of customers are open to referring a B2B company after making a successful purchase, and 78% of those referrals become viable leads. Failing to engage current customers is just ignoring potential new business.
Putting it All Together
In summary, here are the actions you can take to avoid some of the biggest B2B marketing mistakes companies make:
Stay customer focused. Know your audience and tailor your messaging to each segment.
Launch an SEO and content marketing strategy if you don't already have one.
Actively manage your email marketing strategy so it helps (rather than hurts) business.
Utilize data to make smart marketing decisions.
Use responsive design to make your website easy to use and navigate
Include your current customers in your marketing strategy
Over to You
Effective outbound marketing can boost leads and win you new customers. RevBoss's outbound email software and lead generation services are custom-built for startups, SaaS companies, consultancies, marketing agencies, and other B2B organizations.
Schedule a quick call with us and find out how we can help you win more clients.