How to Capture and Follow Up with Trade Show Leads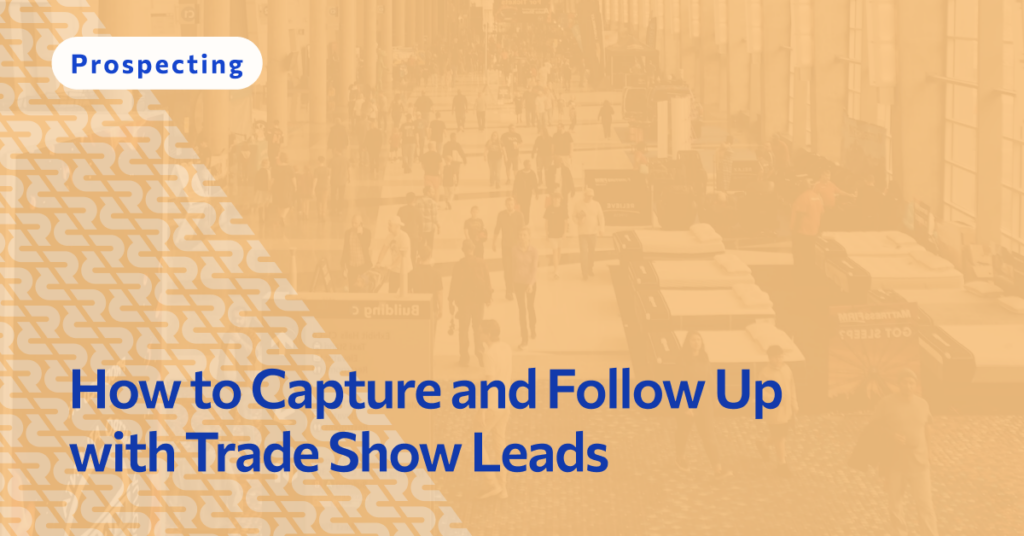 For a long time in recent years, live events were put totally on hold and B2B sales reps were left without one of their main avenues for lead-gen. But in 2023, in-person engagement is back with a vengeance and trade show lead capture should be at the top of your priority list.
After all, the world isn't quite the same as it was in 2019. Business is more digital, new tools and technologies exist, and buyer expectations for brand interactions have evolved. The time is now to revamp and refresh your approach to trade show engagement.
In this article, we'll tell you how. First we'll provide a quick snapshot of the real state of the trade show industry, then walk through 5 tips to maximizing the impact of your trade show lead capture and follow-up efforts.
Quick Takeaways
The trade show market is experiencing steady growth and is expected to continue on that trajectory for the foreseeable future.
Trade show lead capture should happen digitally. The best option to do it is lead retrieval software, but digital forms or linked QR codes can also be effective.
Trade show leads should be qualified, scored, and segmented for personalized follow-up.
Writing content about the trade show event is an opportunity to capitalize on your first common connection with your lead.
Relationships with trade show connections should be valued long-term, even if they don't all translate to sales.
Wait — Trade show leads are still relevant?
There's no doubt that the business world (like every other part of life) is becoming increasingly digital as time goes by. In light of that, many sales professionals are asking the fair question: Are trade shows still relevant in 2023?
Trade shows have always been notoriously tough to measure from an objective ROI perspective, and now with so many lead-gen alternatives in the mix, they're facing fiercer competition than ever for attention from B2B sales participants and buyer attendees. But many still see the value of in-person trade show interaction, perhaps even more so now after a few years without it.
For one, trade shows are events that people attend with a purpose. Unlike when you cold call or email a prospective buyer, you know someone at a trade show is likely to have real purchase intent. To boot, they're present at the actual event and focused on the engagement at hand, not checking their inbox or picking up the phone amidst other daily distractions.
The Trade Show News Network recently interviewed business leaders to get a sense of their feelings on trade show relevance entering 2023. The responses were overwhelmingly positive from an outlook perspective.
Here are some highlights:
"Following a challenging few years, we have learned that events matter more than ever, and the investment in trade shows will continue to grow" — Janet Dell, President and COO, Freeman
"Our trade shows have returned with increased energy, enthusiasm and attendance, and we anticipate these events to continue expanding this year." — Alan Steel, CEO, Javits Center
"We believe exhibition sales in 2023 will exceed 2019 levels, and nearly all of our trade show partners report steady growth in convention attendance." — Steve Hill, President and CEO, LVCVA
Statista's figures back up these predictions. While the industry is clearly still recovering from its sharp dip during the pandemic, the market is back on the rise and expected to recover close to pre-pandemic levels in the next three years.
So the consensus seems to be clear — trade shows are not only still relevant and effective, but they're on the upswing as we move further into 2023. As a sales leader, it is important to think about how to capitalize on this opportunity and optimize your trade show lead gen capture.
That's what we'll talk about in the next section — 6 tips for making your trade show lead-gen strategy as high-impact as possible on your sales pipeline.
5 Tips for High-Impact Trade Show Lead Capture
Make the Lead Capture Process Digital
There have always been inherent issues with pen-and-paper trade show lead capture, including that it's tedious, people don't always feel like filling out paper forms, and they come back full of spelling errors and/or illegible handwriting.
Now that the right alternatives exist, it's time to make your lead capture process digital. There are plenty of ways to do it, and you'll have to make decisions about which works best for you.
Providing tablets to fill out forms may take longer than providing a quick QR code, for example, but the latter means you can't be sure the lead will complete your form before they walk away. If it's possible, a lead retrieval software tool is perhaps the best option, as they allow you to scan attendee QR codes, collaborate with other sales reps, and qualify leads or make notes in a centralized place.
Whichever specific process you implement, remember to make your data collection intentional and complete so you can accurately score leads and prioritize them for follow-up.
Nurture Before You Sell
The B2B sales process takes time, and meeting leads at trade shows doesn't change that. While it does suggest higher purchase intent may be there, leads you engage with at trade shows may not all be ready (or even close to ready) to make a purchase.
Prioritize lead nurturing as part of your trade show lead follow-up rather than going right in for a hard sell. Nurturing leads takes patience, but doing it right pays off — Forrester research shows that companies that excel at nurturing generate 50% more sales-ready leads at 33% lower cost than their competitors.
Personalize Your Lead Engagement
Personalization matters to B2B buyers more than ever — nearly three-quarters of them say they choose the vendor that shows the best understanding of their industry- and company-specific needs. That means buyers don't want to be lumped into a trade show follow-up list and receive a cookie-cutter email follow-up.
Take time to qualify, score, and categorize your leads before you follow up with them (hint: get them in your CRM right away to automate and make these steps easy). Then, segment your follow-up accordingly — based on purchase readiness, product/service interest, fit with your ICP, or other important factor.
For your highest-priority leads, consider taking personalization a step further with a prospecting video or follow-up that includes a deeper mention of their problem, need, and/or interest.
Create Post-Event Content
When you meet leads at trade shows, that event serves as your connection to the buyer — the thing they'll associate most with your brand until you build a deeper relationship. Creating content about the event (think blog or video recaps or commentary on keynote presentations, for instance) is a way to stay top-of-mind with your customer and send them something you know is likely to interest them.
The easiest way to get this step done is plan ahead. Decide which type of post-event content you want to create prior to the event. Put a solid process in place (including the who, what, how, and when) for getting the piece developed, published, and shared with your leads in a timely manner.
Play the Long Game
Think about your trade show lead capture holistically — the first step in a process meant to build your pipeline over time and expand your industry network. Have the right follow-up steps in place, but don't expect every lead to convert overnight or even soon after the event.
Plan a strategy for longer engagement through sharing content, connecting on social media, or even attending the same future events to nurture your relationships with trade show leads. If a particular lead falls out of the funnel, don't discard the contact. Consider how the relationship might be valuable in other ways, perhaps as a future brand advocate or partner.
The takeaway: When you represent your brand well and build positive relationships no matter what, you can expect the ROI to roll in over time as your network returns the favor.
At RevBoss, our outbound email software and lead generation services are custom-built for startups, consultancies, marketing agencies, and other B2B organizations. Schedule a call with us and find out how we can help you win more clients.