Understanding the SaaS Business Model for Maximum Sales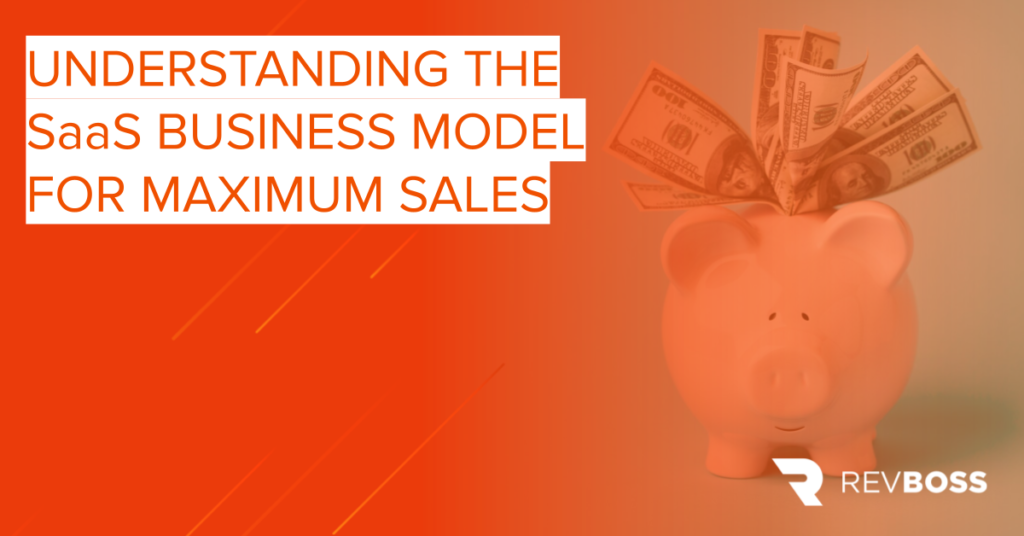 The SaaS business model is subscription-based — customers pay a recurring fee and receive ongoing access to software and related services in exchange.
While subscription models aren't exclusive to SaaS businesses, they have been a primary driver of the explosive growth of subscription revenue over the past 10+ years. Since SaaS emerged onto the scene, subscription businesses have experienced a whopping 437% increase in revenue growth (for context, that's a 6X faster rate of growth than the S&P 500).
Of course, part of this can be attributed to the sheer number of SaaS businesses that now exist across industries. Today there are 25,000 SaaS businesses around the world, and the industry is expected to grow by 11.7% by 2026.
But there's another reason SaaS companies are behind such massive business growth today — one that's much more important to you as an individual business owner or marketing professional — and that's the alignment of the SaaS business model with the modern customer experience.
By nature, the SaaS business model connects businesses with their customers not only at the time of purchase, but for the entire duration of their subscription. Your business stays top of mind for your customers in an ongoing way, and you have continual opportunities to build connection with your customers and maximize sales revenue potential during the post-purchase buyer journey.
In this article, we'll walk through 5 ways you can leverage the SaaS business model to maximize sales potential, both during the traditional sales cycle and after leads become paying customers.
Quick Takeaways
The SaaS buyer and customer journeys are fully connected, and customers remain buyers even after initial subscription.
Free trials and freemium services are two effective ways to fill the SaaS pipeline and ultimately increase sales volume.
Upselling and cross-selling is more effective after SaaS customers have made an initial investment and experience firsthand value.
SaaS businesses have an ongoing opportunity to encourage referrals, which account for a large portion of B2B leads.
The SaaS Buyer and Customer Journey
Before we dive into specific ways you can leverage your SaaS business model to maximize sales, let's take a look at things from the customer perspective.
The SaaS buyer and customer journeys are connected. Initially, buyers go through what looks like a fairly standard B2B sales process. But the journey extends further after purchase than in other B2B sectors, and there are unique opportunities along the way for SaaS businesses to increase the sales potential of every deal.
During the buying process, B2B buyers have access to more information than ever to help them make a decision. In the SaaS industry specifically, free trials and demos have made it possible for buyers to see exactly how software products will fit in with the systems and processes they already have in place. During pre-purchase phases of the journey, customers want hand-on opportunities. SaaS businesses must consider ways to offer that in order to stay competitive.
Even after initial subscription, SaaS customers remain buyers in a sense. The retention and expansion phases are where upselling and cross-selling opportunities arise. Once the customer relationship (and their satisfaction) has been established, referral opportunities emerge during the advocacy stage.
Let's walk through stage-specific tactics you can implement to maximize sales along this entire extended SaaS buyer/customer journey.
Leveraging the SaaS Business Model to Maximize Sales
Content
Your value begins for the customer during the awareness stage of their journey. Today, quality content is the way to establish it. Content marketing has been found to earn 3X the leads and 6X the conversions of traditional marketing methods. Its impact on sales may be indirect, but it is a critical strategy for keeping your pipeline full and engaging potential leads before they reach out directly to your sales team.
And while content is often considered and used as an inbound strategy, there are outbound opportunities to leverage it as well. Most notably is email, the most preferred method of brand communication for consumers of all ages and a prime opportunity to directly share your best content.
Free trials
The SaaS world has mixed feelings on free trials, but there's no doubt that they can be an effective way to fill your pipeline and increase eventual sales volume. There are two methods for offering free trials:
Opt in – No payment information required to start. Payment must be made after a predefined trial period to maintain access.
Opt out – Credit card information required to start a free trial. Card is automatically charged after a predefined trial period unless the prospect takes action to opt out.
In general, you can expect opt-in free trials to earn a higher volume of leads, but opt-out trials to earn higher conversions. SaaS businesses that use free trials appreciate their low-effort, high impact nature, but they aren't totally passive. Processes must be put in place to follow up with prospects throughout and after their free trial to keep them moving through the pipeline.
Freemium services
Freemium models are implemented by offering a limited set of product features for free while keeping others (presumably the most high-value) behind a paywall. Freemium is much like an extended free trial, except the best features are inaccessible. Users receive periodic reminders about features and benefits they can access by becoming paying customers, and often, they eventually see the added value and convert.
As far as customer acquisition strategies go, freemium is one that aligns best with the SaaS buyer and customer journey. A high-impact decision factor for many B2B buyers is how well a system will integrate with existing tools and processes. By offering an opportunity to use your products for an extended time, you allow potential buyers to see that integration in action.
At the same time, freemium services offer a built-in lead nurturing process and keeps prospects active in the pipeline.
Upselling and cross-selling
Getting freemium users to convert to paying customers is one of many upselling opportunities SaaS companies have to increase sales revenue. In most cases, SaaS businesses offer multiple packages buyers can choose from. Packages offer different combinations of features at varying price points.
Not surprisingly, customers often opt for one of the simplest packages to start. SaaS businesses should embrace this behavior. It's easier to convert customers when at a smaller initial investment, and it's much more effective to demonstrate the value of additional products and services when they can be framed around that customer's unique use cases and needs.
Of note: upselling and cross-selling should not be an ad-hoc part of your strategy. Formalize the action steps and timing of upselling and cross-selling efforts in your sales process so that reps have a clear guide for how to execute successfully
Referral programs
In the B2B world — SaaS included — referrals are a no brainer. Word of mouth marketing influences 91% of B2B buying decisions and 78% of referrals result in viable leads for the referred business.
Thanks to the ongoing nature of SaaS customer relationships, businesses in this space have ample opportunity to earn referrals. A formalized referral program is the most effective way to do it, and you can read our guide on how to build one here.
Over to You
Ready to boost your outbound marketing ROI? RevBoss's outbound email software and lead generation services are custom-built for startups, consultancies, SaaS agencies, and other B2B organizations.
Schedule a quick call with us and find out how we can help you win more clients.