How to Use Video at Every Customer Touchpoint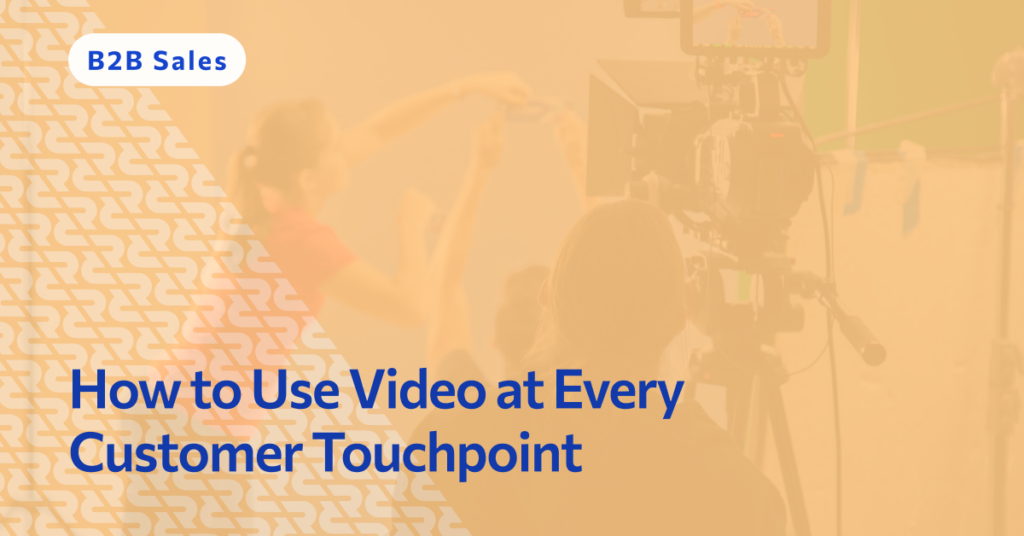 In today's digital-first B2B landscape, connecting with customers requires compelling content at every stage. Using video across customer touchpoints has emerged as the most effective way to grab customer attention with content and keep them engaged from awareness through to final purchase.
In this guide, we'll explore exactly why video is so important in every modern B2B marketing strategy, and walk through steps and examples for incorporating it at every stage of the customer journey.
Quick Takeaways:
Nearly 90% of B2B customers watch video during their customer journey.
Video is the most-preferred type of brand content for business audiences.
Using video at customer touchpoints increases engagement and retention.
Examples of effective B2B video content types include: webinars, product videos, prospecting videos, live events, video presentations, demos, and product/service updates.
Creating a video content map for the customer journey can give your marketing team the high-level view they need to execute.
CRMs and marketing automation tools help streamline video marketing execution.
Why Video Wins for Customer Engagement
There's no doubt that content is king for digital marketing—and video is the king of content. As of 2023, nearly 90% of B2B customers are watching video during their customer journey, and they watch a wide range of it—product reviews and demos, webinars, live video, brand stories, testimonials, and more.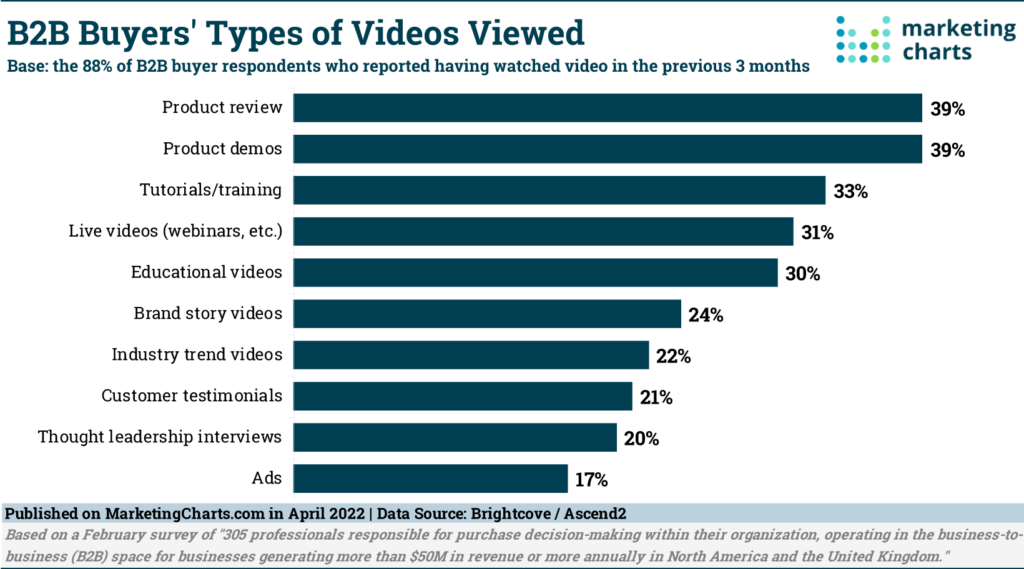 There are several key factors driving this fast and intense shift toward video as the most-preferred type of content:
Visceral Experience
Video content delivers a multisensory experience that text or images alone cannot replicate. The combination of visuals, sound, and motion creates a more compelling narrative to create connections with potential customers and drive them toward action.
Digestible Complexity
B2B solutions often deal with complex and technical concepts. Video can simplify them, transforming abstract ideas or intimidating long-from text into tangible visuals. It can break down intricate processes or features into easy-to-understand segments that prospects actually enjoy consuming.
Authentic Connection
Video introduces the human element. Be it through a company's founder discussing a brand's vision or a customer sharing their testimony, video brings faces, voices, and authenticity to a brand, fostering trust with your brand—something 81% of buyers say they need in order to make a final purchase.
Adaptability
The versatility of video is a big advantage for B2B brands. It can be a short, snappy clip for social media, an in-depth webinar, an animated explainer, or a candid behind-the-scenes glimpse. This adaptability means it can cater to various audience preferences and platforms. Even better, the same raw footage can be used to create all of these types of video, boosting ROI on video marketing investments.
Improved Retention
Visual content results in better retention and recall. On average, people retain 80% of what they see vs. only 20% of what they read and 10% of what they hear. Publishing quality video content means that your audiences will remember more about your brand and your message.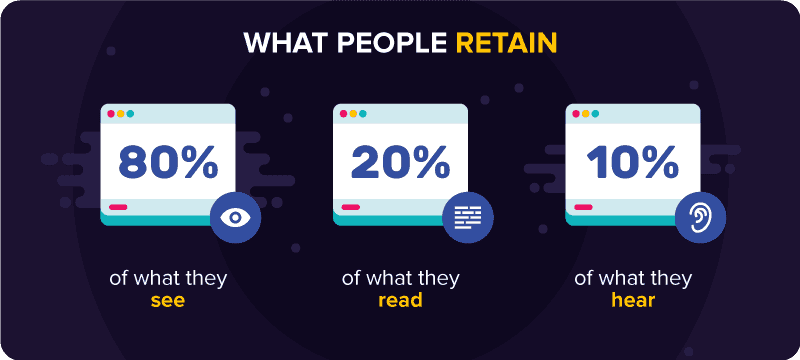 SEO Advantages
Videos can increase the time visitors spend on a site, signaling to search engines that the site has good content and helping to boost rankings. Video thumbnails in search results can also increase click-through rates, driving greater organic traffic.
Video and the Customer Journey: What's the Connection?
In addition to knowing the benefits of video in your B2B marketing strategy, it's important to understand why it plays such a crucial role at every stage of the journey. It all comes down to one primary shift in the way B2B buyers and customers interact with brands.
Today, audiences are more independent than ever. They do their own research online when they look for potential solutions, and they continue to turn to content for brand engagement even after they make a purchase. Given that video is their most-preferred type of content, threading video into every touchpoint you have with customers is the best way to engage them, win them over, and retain them over time.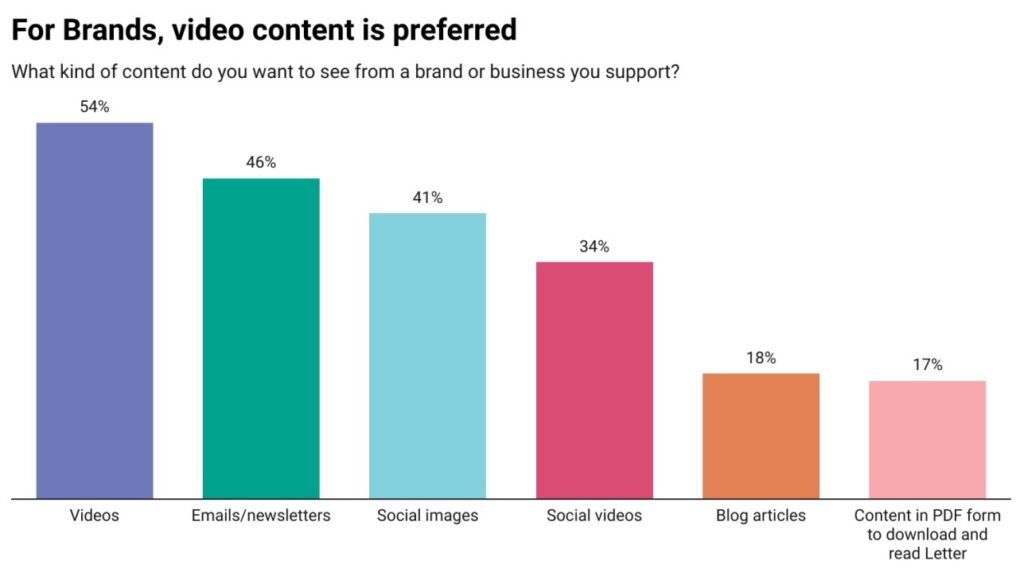 Doing this successfully requires a strong understanding of the goals your customers have at each stage of their buyer journey, and how to craft video that resonates accordingly. In the next section, we'll go over key customer touchpoints that occur at each stage of the B2B buyer journey and how to leverage video to boost results in each scenario.
How to Use Video at Every Customer Touchpoint
1. Awareness: High-Value Video Content
At the initial stage of the B2B buyer journey, prospects are looking for video content that demonstrates a brand's expertise, thought leadership, and ability to deliver effective solutions. To attract and engage buyers at this stage, focus video content around customer pain points—in other words, use it to tell them you understand their problems and know how to solve them.
Effective video content types for doing this include webinars, how-to videos, and case studies that tell stories about how you helped existing customers achieve results. Product videos can work at this stage as well, although they should emphasize customer benefits over features at this stage.
2. Consideration: Video Prospecting
Once you've captured a buyer's initial attention, it's all about convincing them that you're the best option on the market. It's likely that your prospect has already narrowed down their list to include only quality brands at this point, so much of winning them over will be about proving that you are most in tune with their needs and able to deliver the best customer experience.
Video prospecting is one of the best ways to demonstrate this. Rather than following up with a standard call or email, video prospecting goes one step further to personalize the message. As you can see in these examples from video prospecting company, Vidyard, prospecting videos don't have to be anything fancy—but they do have to show that you see the buyer as an individual.
The most effective prospecting videos create a human connection that potential buyers find hard to ignore, driving greater response rates after initial sales conversations, and more effective lead nurturing that moves prospects reliably down the pipeline.
During the consideration stage, the content types we covered for the awareness stage are still effective. The difference is that they're often better sent directly to prospects during this stage (vs. found via search engines or other public platforms).
3. Decision: Product Demos and Presentations
During the decision-making stage of the customer journey, customer touchpoints are all about driving a prospect toward a decision. Videos should be highly tailored to individual prospect needs and motivate them to take action. By this time, your sales reps will know a lot about the prospect and should have the ability to deliver content that resonates effectively.
Product demos for specific solutions can be very effective at this stage. Whenever possible, demos should mention product features in the context of how they can deliver value for the individual prospect. Sales presentations work the same way—they can be conducted via live or recorded video, and should heavily emphasize the alignment between prospect needs and product/service solution capabilities.
4. Retention: Events, Updates, and Check-Ins
Post-purchase engagement is critical to fostering customer loyalty and satisfaction. At this stage, it's all about continuing to show customers you care about their needs and want to deliver content that helps them derive value from your solutions.
Customers expect that the video content you deliver will be personalized and hyper-relevant at this stage since you've gotten to know them and built a relationship over time. You can deliver on this expectation by sending frequent, personalized content recommendations and event invites.
Product/service updates (like guides on new features, overviews on new service packages) can also be effectively shared video video—especially live video with your customer success team, who can tailor the way updates are presented to align with customer preferences.
Creating a Cohesive Video Strategy
Leveraging video across customer touchpoints requires a holistic view of the customer journey, and an intentional plan about how video plays a role at every stage. Creating a video content map is one way to maintain this high-level view while also sharing video effectively in individual scenarios.
Here's one example to help inspire what yours might look like: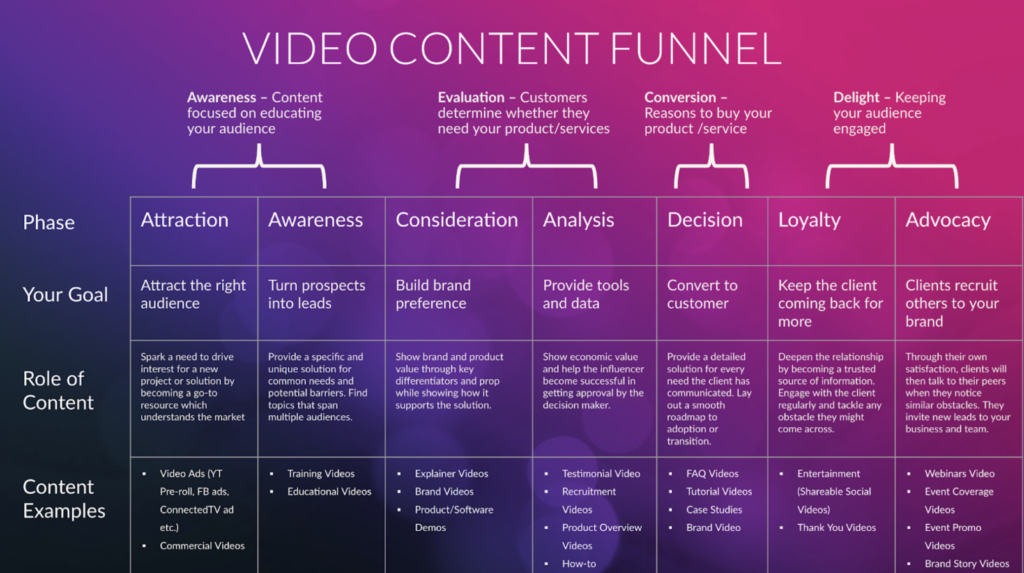 Leveraging your CRM system and marketing automation tools can help you streamline the execution of your strategy and ensure it's consistent over time.
How RevBoss Can Help
At RevBoss, we help clients execute comprehensive outbound marketing and sales campaigns, engaging ideal clients and leveraging outbound best practices to drive them toward purchase. Our platform and services are custom-built to SaaS companies, marketing agencies, startups, and other high-growth B2B organizations. Schedule a quick call with us today to learn how we can help you grow.