The RevBoss Guide to Video Prospecting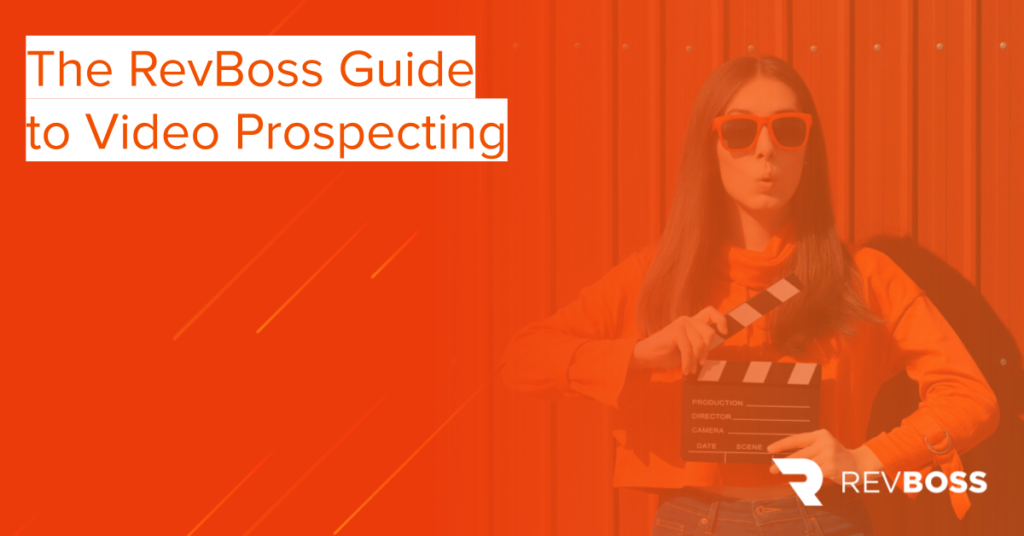 Video is all the rage — B2B consumers demand it more than any other kind of content, and it's proving to be a now-permanent way brands and buyers communicate throughout the buyer journey. Recent research found that a whopping 95% of B2B buyers say video plays a key role in their moving forward with a purchase.
Video prospecting is a specific tactic that leverages video to engage potential new buyers during the initial stages of the sales process. Sales teams are successfully using it for everything from cold outreach to personalized follow-up to informational videos (and more). The key to making it work is making it personal — prospecting videos are crafted for individuals, not buyer groups.
As such, they catch buyer attention, make prospects feel valued, and increase the likelihood of successful lead or sale conversion.
In this article, we'll cover what you need to know about adopting video prospecting as part of your lead generation and nurturing strategies — including how it works in practice, the tools and technologies that power it, and tips for maximizing ROI on your efforts.
Quick Takeaways
About three-quarters of B2B buyers now prefer remote sales interactions.
Scripts and templates help standardize and quality control prospecting videos while leaving room for personalized content.
Videos can be created using standard desktop tools or software platforms built specifically for sales outreach.
Video prospecting is most effective when it's authentic, with messaging attuned to the unique needs of each individual buyer.
Video Prospecting: Why it Works
Video prospecting is emerging alongside larger buyer preferences for digital sales experiences — McKinsey research found that nearly half of B2B buyers are currently using remote channels to identify and evaluate new suppliers and order new products. Further, 70-80% prefer them over traditional in-person methods.
Video prospecting, then, eliminates sales barriers by not asking buyers to do something they already don't want to do (like answer a phone call or meet in person). At the same time, as the seller, you can expect your sales communications to yield higher ROI in the form of greater engagement. This is typically reflected by KPIs like open and reply rates (which increase by 16% and 20%, respectively, when video is used), and click-through rates (increase by up to 65%).
Another important benefit of video prospecting is the ability to hyper-personalize messaging. In the time it takes to speak a few sentences, sales reps can make individual buyers feel like they're their number one priority. It's something almost every buyer looks for in a seller — the ability to demonstrate knowledge and understanding of their unique needs.
In practice, video prospecting can be as simple as sales reps recording a personalized message on their computer's built-in webcam, and attaching it to an email. Many companies, however, are using more intentional and streamlined tools and tactics to make it a seamless and engaging part of the sales experience.
Let's look at five steps you can follow to implement a winning video prospecting strategy that helps you boost conversions and win more new clients.
5 Steps to Successful Video Prospecting
Decide when you'll do it
Like every tactic in your sales process, prospecting videos should have a place and a purpose.
Start by looking at your overall process and identifying opportunities for improvement and/or better engagement. For example — is your cold outreach strategy failing to yield the results you want? Are you having trouble moving leads forward after initial sales appointments?
These are two common places video prospecting can level up your results, but they aren't the only ones. You can also use prospecting videos in a lead nurturing email series, as a more ongoing way to follow up after sales conversations, as a way to enhance product demo videos, or as a way to get information to decision makers beyond your primary contact.
Looking holistically at your process and placing video prospecting strategically can help you maximize ROI on initial implementation. As you learn the ropes and find success, you can expand use cases to make it a larger and multi-faceted part of your sales strategy.
Adopt the right tools
While you don't need a professionally produced video to win with video prospecting (in fact, self-recorded videos without the bells and whistles come off as more authentic), you do want to make sure your video quality is consistent and sound.
You'll want the ability to use templates (more on those shortly) and have access to user-friendly tools that allow sales reps to create videos on their own.
Many companies choose to stick with Zoom and their commonly-used video conferencing tools to create videos, while others adopt tools like Vidyard or Berrycast that are designed for this specific purpose. There really is no right or wrong answer — it's up to your marketing and sales leaders to determine what level of need your team has and adopt tools that fit within your strategy and budget.
The takeaway, however, is to have a standardized tool and recording method to ensure quality and consistency across all sales reps using this tactic.
Write compelling scripts
Scripts help sales reps stay on-brand and on-message in prospecting videos. In fact, it's best practice for sales leaders to create them as sales enablement resources reps can use to guide the overall content of their videos while leaving flexibility for each one to be customized.
For example: A cold outreach prospecting video script may include a standard value proposition, then other sections that say [introduce yourself here] or [discuss prospect needs here] so the sales rep can make the message personalized. This gives your reps a reliable starting point while allowing them to inject their own personality and tone as well.
Use templates
Like scripts, video templates provide an opportunity for standardization while leaving room for your sales rep to make each message unique. In short, you have parts of the video standardized — like a short product demo, for example — and others recorded specifically for each message.
This is one place where software tools like the ones mentioned above can be really helpful — most have template features built right into them.
Be personal and authentic
Last but not least, keep your videos authentic. Research your prospects, align your outreach with your ICPs and buyer personas, and prioritize lists so that you can spend time making your messages compelling for buyers with the highest potential to convert.
Use scripts and templates to standardize, but allow each sales rep's personality to shine through and leave enough room in the videos for personalized, conversational content.
Over to You
Ready to get started with video prospecting? RevBoss can help you power your new strategy by helping you consistently find and engage best-fit leads for your business. Our outbound email software and lead gen services are custom-built for startups, marketing agencies, consultancies, and other B2B organizations to help them grow.
Schedule a quick call with us and find out how RevBoss can help you win more clients.