How to Choose a Great Video Prospecting Company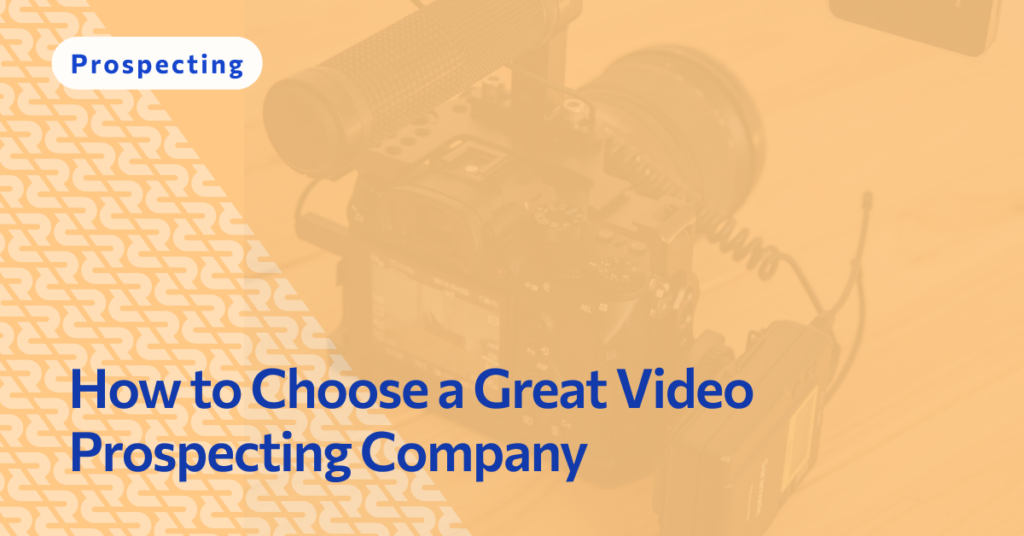 It's a crowded digital marketing world out there in every B2B industry. Businesses need new and innovative ways to connect with potential customers if they want to beat out competitors for the best leads. Enter: video prospecting. It combines the content type B2B buyers currently want most—video—with the high level of personalization they expect from providers.
But implementing an effective video prospecting strategy requires specific expertise, resources, and tools that you may not have readily available at your business. In that case, you can turn to a video prospecting company for support.
In this article, we will explore how video prospecting is impacting the B2B marketing world, discuss the benefits of hiring a video prospecting company, and provide a comprehensive guide on how to choose the right one for your business.
Quick Takeaways:
Video prospecting uses video to execute highly personalized and targeted outreach to high-potential prospects.
In 2023, 90% of marketers say video is helping them generate leads, and 87% say it's helping them increase sales.
A video prospecting company brings expertise, experience, tools, and resources that companies may not have access to in-house.
When choosing a video prospecting company, it's important to consider factors such as experience, portfolio quality, client testimonials, collaboration styles, and pricing.
What is Video Prospecting in B2B?
Today, video is leading the content pack in driving growth for companies that use it. In 2023, 90% of marketers say video is helping them generate leads, and an impressive 87% say that it's also helping them increase new sales.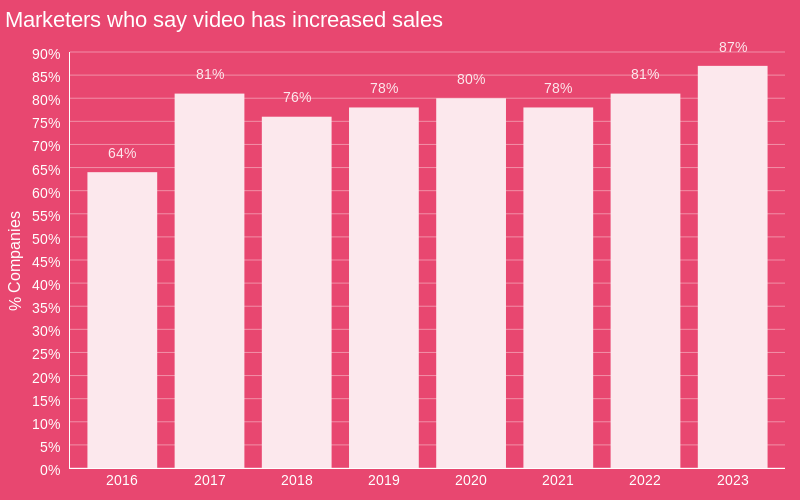 Video prospecting is a key contributor to earning sales conversions with this medium—it connects with B2B prospects on an individual basis at various points in the buyer journey with the specific goal of impacting their purchase decision.
And unlike traditional text-based sales prospecting methods, video prospecting enables more engaging and impactful outreach.
With video, businesses can humanize their brand by putting a real face behind the message, building stronger connections and trust with prospects as they make their decisions. In the B2B space, where 81% of consumers say they must trust a brand to buy from it, video prospecting can be a game changer.
Like any other outbound marketing and sales strategy, video prospecting requires a sharp balance between effective personalization and automated, systematic processes that allows for execution at scale.
Automated video prospecting tools can help, enabling the use of templates to quicken video creation and streamline the incorporation of key customer data points. But for the ultimate level of support to make video prospecting a central part of their strategy, many companies are choosing to outsource to a video prospecting company.
Video prospecting companies are dedicated to achieving lead-gen and sales results through this method for their clients, and they can help you implement this newer strategy with confidence.
What Can a Video Prospecting Company Do For Your Business?
So what exactly can a video prospecting company do for your business? Their benefits include a combination of technology, expertise, bandwidth, and reporting support.
Professional video prospecting companies have experience with creating video content for this purpose. They know what engages prospects best and how to craft videos that resonate with your unique audience. They also have access to professional equipment, editing software, and other tools to enhance the quality of your videos.
They can help you streamline your overall prospecting process, identifying the most effective channels and platforms for distribution Whether it's through email campaigns, social media, or personalized landing pages (or another channel), they can guide you in maximizing the reach and impact of your prospecting video messages.
Finally, a video prospecting company can provide valuable performance measurement insights and analytics. They can track the performance of your video campaigns, measure engagement levels, and provide detailed reports on viewer behavior. These insights can help you refine your prospecting strategy and optimize your videos for better results.
7 Things to Look for In a Video Prospecting Company
Experience and Expertise
When choosing a video prospecting company, first consider their experience in the field. Look for a company with a proven track record of executing successful video campaigns. Assess their expertise in storytelling, video production, and marketing strategy. Seek out client testimonials that give real-world examples of how a company delivers results.
A knowledgeable and experienced team will be better equipped to understand your business objectives and create compelling videos that align with your goals.
Portfolio and Samples
Request to see the company's portfolio or examples of their previous work. This will give you a sense of their style, creativity, and production quality. Pay attention to the storytelling techniques they use as well as specific visual and audio elements. Make sure their style aligns with your brand image and the message you want to convey to your prospects.
Customization and Personalization
Personalization and customization are central to effective video prospecting. Ensure that the video prospecting company you choose understands the importance of tailoring videos to individual prospects. They should have strategies in place to gather relevant information about your prospects and incorporate it into the videos.
Look for companies that offer personalized scripts, dynamic content, and other methods to make each video feel unique and relevant to the recipient.
Distribution Channels
Consider the distribution channels a video prospecting company utilizes. They should have a deep understanding of the platforms and channels where your target audience is active.
Whether it's email marketing, social media, or specialized video hosting platforms, you want to hire a company with a comprehensive approach to reaching and engaging your prospects. Ask about their strategies for optimizing videos across different channels and how they measure the success of their distribution efforts.
Data-Driven Reporting
A reliable video prospecting company should provide detailed reporting on the performance of your video campaigns. Inquire about the metrics they track, such as video views, engagement rates, click-through rates, and conversions. This data will help you to assess the effectiveness of your videos and make data-driven decisions to improve your strategy.
Ensure the company you choose has dedicated processes in place for reporting frequently and reliably so that you don't have to continually ask or go looking for performance data.
The company should be able to offer insights and recommendations based on the analytics they report to help you refine your approach over time.
Communication and Collaboration
Effective communication is crucial when working with a video prospecting company. Ensure that they have a streamlined communication process and are responsive to your needs. They should be willing to collaborate closely with your team, understanding your unique business objectives, and incorporating your feedback into the video production process.
Look for a company that values collaboration and is willing to go the extra mile to ensure your satisfaction. Alignment on communication style is critical to have a successful long-term working relationship.
Pricing and Value
Last but not least, consider the pricing structure and value proposition of the video prospecting company you want to choose. While it's important to find a company that fits your budget, remember that quality and results should also be prioritized. Request pricing details and assess the value you'll receive for your investment.
Compare the pricing with the services provided, the company's expertise, and the potential return on investment. A great video prospecting company will offer a clear balance of quality and affordability.
Final Thoughts
Video prospecting has emerged as a powerful tool for businesses to connect with prospects and drive sales in the B2B space. By hiring a video prospecting company, you can leverage their expertise, resources, and experience to create impactful and personalized videos that resonate with your target audience.
When choosing a video prospecting company, it's essential to consider factors like experience, portfolio quality, client testimonials, customization capabilities, distribution channels, analytics, communication, and pricing.
By carefully evaluating these aspects, you can select a video prospecting company that aligns with your business needs, works well with your marketing team, and can help you achieve your larger prospecting goals.
How RevBoss Can Help
RevBoss can help you incorporate video into your outbound marketing outreach and execute a more comprehensive and engaging strategy for reaching target prospects.
Our outbound email software and lead generation services are built for startups, consultancies, marketing agencies, and other B2B organizations.
Schedule a quick call with us to learn more about how we can help you grow your business.