Why (And When) Should You Hire a B2B Lead Generation Agency?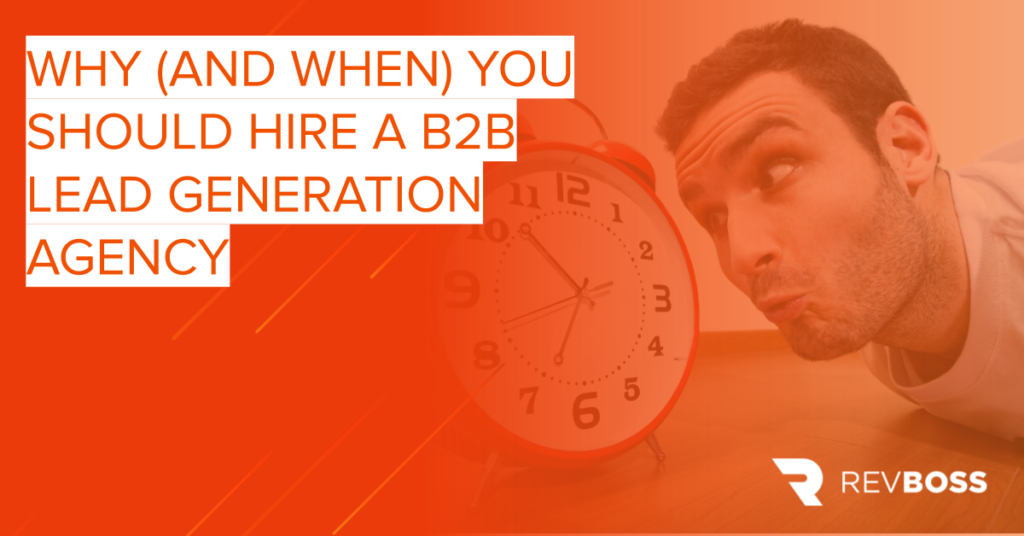 If you ask any marketing or sales team what their primary objective is, the answer will likely be the same across every industry: to increase revenue for their business. 
For B2B organizations, the first step to achieving that goal is lead generation – finding potential customers who meet audience criteria and nurturing them into paying clients.
The majority of companies allocate more than half of their entire marketing budgets towards lead generation strategies. But even though sales and marketing teams are well-funded these days, their efforts are not always successful – multiple studies have found that marketing teams consider lead generation to be far and away their greatest challenge.
Source: Startup Bonsai
If your company's marketing team is struggling to drive in high lead numbers – or high-quality ones – a viable solution is to outsource lead generation to an agency. If this has been a topic of conversation amongst your B2B organization, you may be wondering whether this really is the best option. Here's a before-and-after perspective to help you make an informed decision.
Key Takeaways:
It's not enough to generate leads – you need a workable plan to nurture and convert them.
Agencies have experts who do multichannel marketing day in and day out. Reinventing the wheel in-house is not worth the time and effort.
Ultimately, selling your product is your responsibility. So make sure you choose an agency that shares your values and understands your objectives.
Why Should You Partner with a B2B Lead Generation Agency?
Lead generation agencies do all the dirty (OK, monotonous) work for you. Ideally, you'd expect them to:
Mine your databases (if you have any) and existing resources for valuable leads.
Identify which channels to target for lead gen.
Build a list of leads on each of these channel and qualify them.
Directly connect you with brands or vendors you can partner up with for customer acquisition, marketing, or advertising campaigns.
These services are offered at various price points, depending on your organization's size and overall expectations. However, the first step is to decide why you can't do all of the above by yourself.
Lead generation is getting more challenging by the day
While businesses have more resources than ever to gather and engage leads, it is actually quite challenging to qualify these leads. Shockingly, over a third of marketers don't ever validate their leads before passing them along to the sales team!
In the absence of validation, let alone qualification, conversion numbers will be dismal. Lead generation agencies have the built-in processes and resources to eliminate unqualified leads, thereby accelerating the sales cycle for the rest of the leads.
Agencies help expand your marketing reach
Most B2B lead gen agencies have ready access to data and research into different consumer segments. They also take the time to get to know your business – with questionnaires, cheat sheets, and checklists. You rarely assess yourself objectively in the same way.
They can also come up with customized lead gen strategies as well as uncover segments you may have never considered. A wider lead pool can lead to a more diverse customer base and a wider market presence.
You can't tell a good marketer from a bad one
Marketing has become digital and evolving at breakneck speed – with new martech tools being introduced (and used) every day. Small businesses have a hard time finding marketers who understand the changing nature of digital channels or are adept at using different tools to deliver KPIs.
B2B marketing agencies, on the other hand, have talented leaders who can devise and execute multichannel campaigns. They also have experts on their team who can mine your customer and sales data, run audits on your content assets, and find patterns and gaps in your sales process. Your business may not be in a place to hire a great team from scratch, but agencies can make the skills and knowledge of these mavens available for you as and when required.
Your sales team needs to focus on selling
After generating leads, there is a process to separate the wheat from the chaff. And that is lead scoring and qualification. Sales teams need high-quality Marketing Qualified Leads (MQLs) that they can "accept" as Sales Accepted Leads (SALs) and eventually pursue.
Source: Industrial Marketing Today
Lead nurturing takes a lot of time, energy, and resources. You don't want your sales reps to spend any of those digging out basic information about a lead or confirming their purchase intent – you want them to spend time reaching out to leads, selling your product, and selling more of your products (while feeding a wee bit of insights back into your systems and processes).
What to Do When You're Ready
The decision to outsource your sales development processes is not a simple one. Lead generation is a make-or-break part of your sales funnel, so it is very important to partner with an agency that is interested and vested in your company's growth.
Here's what you need to do before signing on the dotted line:
List out your top priorities and goals
It is best to approach an agency with specific business objectives rather than generic outcomes like wanting to "increase sales." The more detailed and precise your goals are, the easier it will be to eliminate agencies that can't help you.
Needless to say, make sure your objectives are challenging yet achievable and set deadlines if applicable. Some examples could be:
Grow organic search traffic by 15% every month over the next year.
Double brand recognition in this location over the next 6 months, as measured by a survey using this market research company.
Expand into these 3 verticals by signing 10 clients in each over the next 2 quarters.
Boost revenue by 10% next quarter with 75% coming from new customers.
It is also incredibly useful to provide an agency with a clear definition of your brand and audience. Have a clear message that you want to get across to future leads, conveying exactly what your business does, what services it provides, who the people behind it are, and so on.
While it's okay if an agency does not "guarantee" any specific results, they should not be intimidated by your objectives.
Make sure the agency can deliver
Choosing a B2B lead generation agency is like hiring a new team of employees. You'll want to vet them first and eliminate any unqualified applicants as you would during the job interview process.
For starters, you'll need to some pointed questions that will help you understand the agency and their methods better:
Have you worked in our industry before? Do you specialize in similar niches?
Do you source or purchase leads through another company or are they generated in-house?
Are your methods compliant with current data privacy laws?
What will the sales flow look like? How often will you send lead lists? How will you score or qualify them?
How will you customize lead generation strategies for our business?
If they seem hesitant to answer these questions or haven't worked along these lines, proceed with caution.
Vet them
No matter how trustworthy the people you met seem or how illustrious their track record, take the time to do your due diligence. Research the agency's past clients, take a look at their customer success stories, and reach out to them with any questions. If the agency works (or has worked) with one of your direct competitors, consider whether there would be a conflict of interest or if you still want to go ahead.
Of course, don't just trust what their favorite clients have to say. Dive deeper by looking up their reputation on industry raters' sites like the Better Business Bureau and third-party review or comparison sites such as G2.
Over to You
When it comes to growing your business, don't hesitate to reach out to experts. Your team doesn't need to constantly struggle to dig up leads, especially if you have the bandwidth to deliver more goods or services.
At RevBoss, our objective is to support B2B companies by developing high-quality lead generation pipelines for continuous growth. We combine marketing automation with professional insights to create strategies that deliver verified leads directly to you. Schedule a demo right away to learn more about our process.