Why Content Marketing Is Essential for Business Growth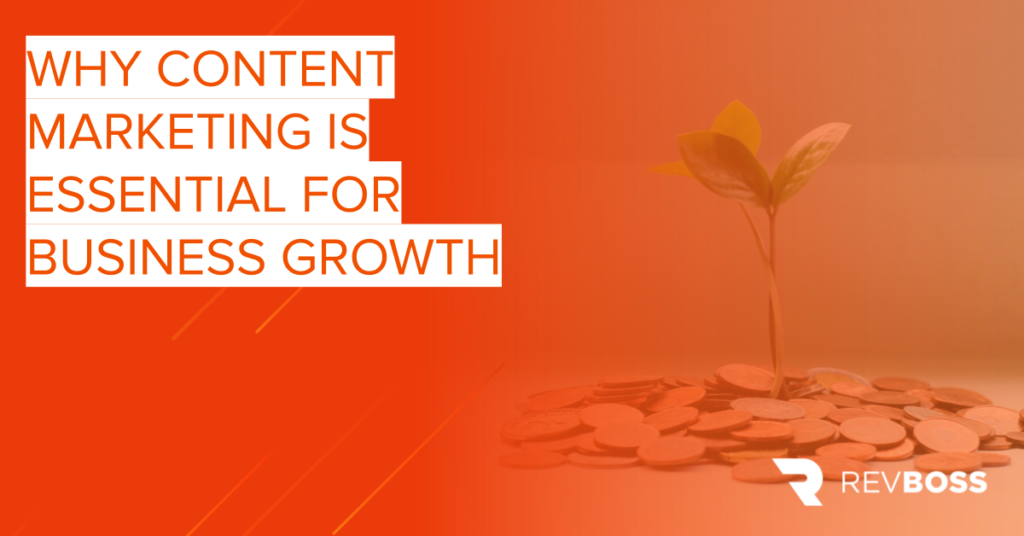 In 2022, there's no way around it: it is essential for companies to leverage content marketing for business growth. More than ever before, users are turning to search engines to find information about brands, answers to questions, and solutions to problems they encounter. 
Without content that makes you visible to potential customers, your company is absolutely behind the eight ball.
But in order to make your content marketing strategy truly effective, you need to know exactly how content drives growth. In this article, we'll walk through 5 specific growth factors driven by content and how you can design yours to deliver results.
Quick Takeaways
More than 90% of B2B and B2C companies are leveraging content marketing for business growth.
Content marketing drives higher search visibility and organic traffic, two of the most important growth drivers in today's digital environment.
Companies can use content to target information and messaging to prospects at specific stages of the marketing and sales funnel.
Content marketing can be used to boost lead generation with tactics like lead magnets and strong CTAs.
Consistent, high-value content established brand authority with customers, peers, and search engines
What is content marketing?
Content marketing is a strategy that uses the creation of targeted, high-value content to attract new customers and engage target audiences. Over the past decade or so, it has grown from a cutting-edge new approach to a competitive imperative. Today, more than 90% of B2B and B2C companies are leveraging content marketing for business growth.
When people think of content marketing, their minds often go to blog posts, and maintaining an active blog is a core part of any good content marketing strategy. But content also encompasses other types of and channels for content, including:
Downloadable resources like ebooks, whitepapers, or PDFs
Social media posts and stories
Video content such as webinars, live event streams, or product demos
Interactive content like surveys and polls
Informative visuals such as graphs and infographics
Newsletters and other email communications
Audio content like podcasts
Smart companies experiment with different content strategies and maintain the ones that best engage their target audience. And there's still plenty of room for innovation — content marketing is still evolving. As we look toward the future, visual content is predicted to be the most in-demand type of content (video alone, for example, is expected to account for 82% of all online traffic by the end of this year) and AR/VR content is gaining momentum as technology adoption catches up to its capability.
In short: content marketing is here to stay, and it's not even enough to start a blog and check content off your to-do list. To truly drive business growth, your content marketing strategy needs to be multi-channel and diverse, leveraging the content types and channels best suited for delivering different information and messages.
5 reasons content marketing is essential for business growth
Search visibility
Search is the launching point of 93% of all online experiences today. Whether a user is looking for an answer to a question, conducting brand research, looking for a product they want to purchase, or browsing for information on a topic, they are likely starting with a search engine.
Search engine crawlers use website content to find and rank companies on search engine results pages (SERPs). Without content, it's impossible to rank, and without rankings, companies are essentially invisible to potential customers. High-value, well-designed SEO content, on the other hand, makes your company more visible on SERPs and drives organic traffic to your site.
Organic traffic
Organic traffic is any traffic that lands on your website from unpaid sources, such as through a search engine or by directly typing in your web address. Organic traffic — driven mainly by content marketing — accounts for the highest percentage of overall traffic across industries.
Aside from the obvious cost advantage for brands, organic traffic also indicates that customers are finding your brand credible and relevant. Users are savvier than ever and understand how Google rankings work. Most will skip right over paid ads at the top of SERPs, opting to scroll to the organically ranked pages instead.
Funnel marketing
Content marketing enables companies to take a funnel marketing approach to their strategy, targeting content and messaging to prospective customers at a specific phase of the funnel. You can see below how different types of content generally align with different phases:
Funnel marketing is more important than ever as prospective customers conduct up to 70% of their research independently before ever contacting a company directly. In this environment, content marketing is a critical tool for engaging prospects and keeping them moving through the funnel until that first point of direct contact.
Lead generation
The benefits we already covered — higher search results, more organic traffic, and targeted funnel marketing — all ultimately lead to better lead generation through content marketing. But there are also some direct ways you can design your content specifically to capture leads.
The first way is by using lead magnets, which are high-value, downloadable assets offered for free in exchange for a user's contact information. Common types of lead magnets include ebooks, whitepapers, PDF guides and checklists, or webinar recordings. Lead magnets usually help users solve a problem or complete a task while demonstrating a company's expertise in that specific area.
Here's more on lead magnets and how to create ones that are effective:
The second way your content can generate leads is through the use of calls-to-action (CTAs) that give users a clear next step after they engage with your content (such as subscribing to a newsletter or filling out a form for more information). CTAs keep prospective customers moving through the funnel and give you data (like clicks and subscriptions) to help you track activity.
Brand authority
Brand authority is the extent to which your company has established its reputation as an expert in your industry or niche. Today, content is a major determining factor in the way your customers, peers, and Google view your brand authority. Google even has specific algorithms for determining authority as part of their rankings formula.
Content marketing gives companies a way to publicly demonstrate their expertise across channels and over a long period of time. When you establish brand authority in this way, you'll receive higher rankings and a wider perception as an industry expert. This type of recognition leads to more automatic brand recognition and more customers seeking you out directly.
Our outbound email software and lead generation services are custom-built for startups, consultancies, marketing agencies, and other B2B organizations. Schedule a quick call with us and find out how we can help you win more clients.