RevBoss starts at $3700 per month.
We have service options for companies at all stages.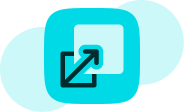 RevBoss Growth
RevBoss will build and execute your outbound program from the ground up.
Starting at $3,700/mo*
*With a 12 month agreement. Pilot options available.
Add integrated outbound email and display to your growth engine.
Reach a new pool of potential customers.
Work with a dedicated account strategist.
Get data-driven, personalized messaging from top copywriters.
100% transparency. No setup or hidden fees.
Get Started With RevBoss