How to Close a Lead: 6 Smart Tactics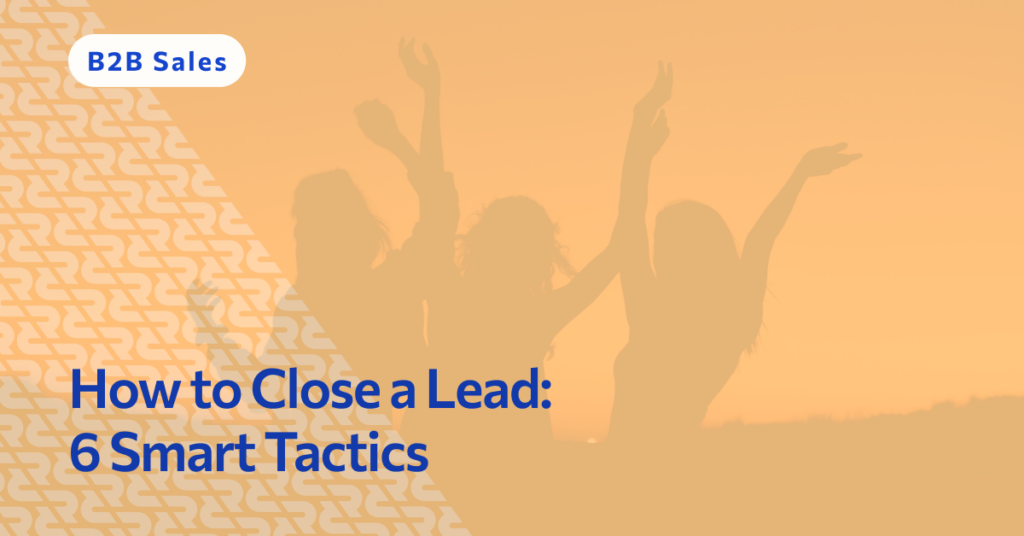 Thanks to modern technology, lead generation has become more automated and scalable than ever. Businesses of every size can now keep their pipelines full by generating a steady stream of new leads across digital marketing channels.
But what happens after leads are generated?
The digital marketing landscape is noisy and crowded, and today it's not enough to generate leads without a smart, detailed plan to actually convert them. Without one, you're likely to be quickly forgotten by buyers who have plenty of other options right at their fingertips.
In this article, we'll explore 6 proven tactics you can use to keep leads engaged, win them over your competitors, and maximize deal revenue potential.
Quick Takeaways
Calling leads within 5 minutes is 21X more effective than waiting just 30 minutes.
Multichannel lead communication strategies help brands meet the 8+ touches leads need before they'll convert.
Buyers can educate themselves about product features — they need sales reps to talk about solutions.
Trust and personalization are deciding factors for buyers on their purchase journey.
To win more clients, brands must focus on providing value throughout the entire sales process and an end-to-end positive buyer experience.
How to Close a Lead: 6 Smart Tactics
Shorten your initial follow up time
Quick lead response time has always been important, but as buyer behavior has evolved with new technology, expectations for follow-up have gone from fast to nearly instantaneous.
Today, responding to a lead within 5 minutes of their initial request is a whopping 21X more effective than waiting 30 minutes or more. Further, industry research has shown that buyers are significantly more likely to choose the company that calls them back first.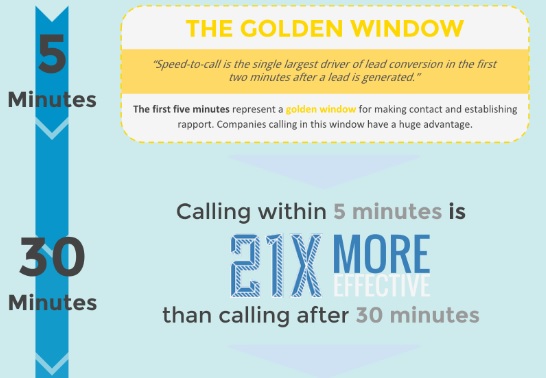 To position yourself as the top option in the minds of potential buyers, put an automated lead response strategy in place that ensures a response as soon as leads show interest.
This could be as simple as a welcome email. Focus on providing value right away (more on this later) with things like great content and resources on your product/service offerings.
Beyond that, shorten the time to the first phone call as much as possible. To manage sales rep bandwidth, use a lead scoring strategy to prioritize your most high-potential leads and increase your sales conversion rate as a result.
Stay in touch
Leads require as many as 8+ touches before they actually make a purchase decision, so it's critical you have a plan to stay in touch with leads after your initial contact. Create a plan that includes multichannel engagement and a variety of communications. These could include:
Lead nurturing email campaigns
Follow-up phone calls
Targeted remarketing ads and emails
Social media engagement
Video and/or in-person meetings
Product demos
Emphasize solutions, not products
There was a time when sales reps were the sole source of information about products and services for potential buyers. Those days are long gone. Thanks to the internet, buyers complete 57-70% of their research before they ever reach out to a potential vendor, and they're already informed about their options when they talk to your sales reps.
What this means: Sales reps should not waste time going into detail about product features. That information is on your website and your leads have almost certainly already read it.
Instead, home in right away on your lead's pain points — the problems and challenges that led them to seek a solution in the first place — and talk specifically about how your company can be the best solution for their unique needs.
Provide value before purchase
Today's buyers are looking for more than just quality products and services — they want to work with vendors that truly care about their needs and provide true professional partnership.
This is reflected in the way buyers prioritize trust during the purchase process. A recent survey by ClearChannel and JCDecaux found that 81% of consumers identify trust as a deciding factor in their purchase journey.
You can build trust with the leads in your pipeline by working to provide value at every step of the sales process (rather than seeing value as exclusive to providing products/services).
Some powerful ways to provide value are:
Delivering high-quality content that addresses buyer pain points
Providing wide-ranging industry expertise (even about competitors)
Offering pre-purchase products/services (like demos or free trials)
Personalize the sales process to each unique lead
Personalize the process
Let's expand on that final bullet point from the previous section: personalization.
Like trust, personalization has been identified as a standard consumer expectation and a major impact factor in the purchase decision. Personalization from brand communications was once considered novel — a "nice-to-have."
Today, it's a necessity. A recent survey found that 68% of buyers identified attunement to their unique company, industry, and needs as the number one reason they chose their vendor over other options.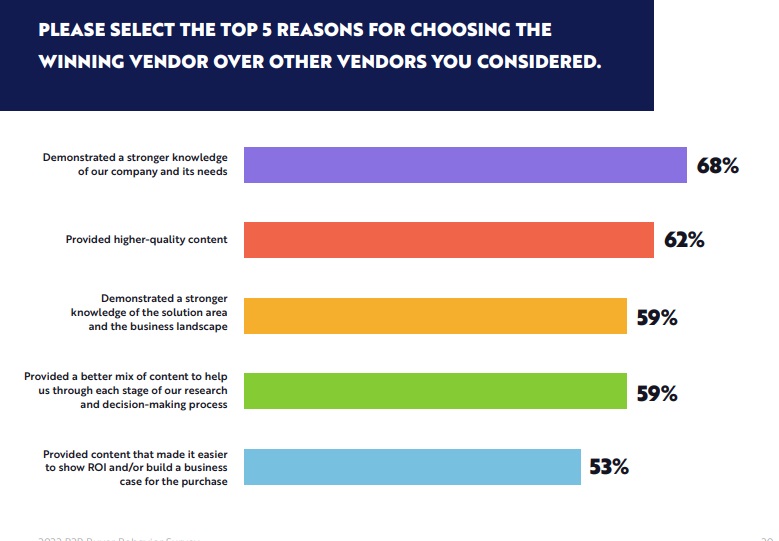 Personalization can be executed at scale with the help of automation tools (like email marketing platforms), but that's not where it should end. Consider other ways you can personalize the process for your leads with tactics like video prospecting, thorough discovery calls, one-on-one demos aligned with unique company needs, and customized sales presentations.
Provide an exceptional experience
Last but not least — think about your sales process as an end-to-end experience rather than a series of tactics and interactions. From the buyer's perspective, the sales process is a journey, and the experiences they have along the way are what determines whether they'll choose your brand or a competitor.
Consider the following:
Are communication channels aligned with buyer preferences?
Does content and other shared information address buyer needs?
Are sales interactions positive and valuable?
Does the sales process help buyers truly get to know our brand?
How can we create more interactive, engaging experiences?
Remember the buyer priorities we covered in the previous sections — trust and personalization — and prioritize them in return.
Over to You
Closing leads successfully starts with attracting the right leads for your business — leads whose needs align with your solutions and who have real intent to make a purchase.
Revboss's outbound email software and lead generation services are custom-built for startups, consultancies, marketing agencies, and other B2B organizations to find high-quality leads they can convert to paying customers.
Schedule a quick call with us and find out how we can help you win more clients.