How to Find the Best Email Marketing Company for You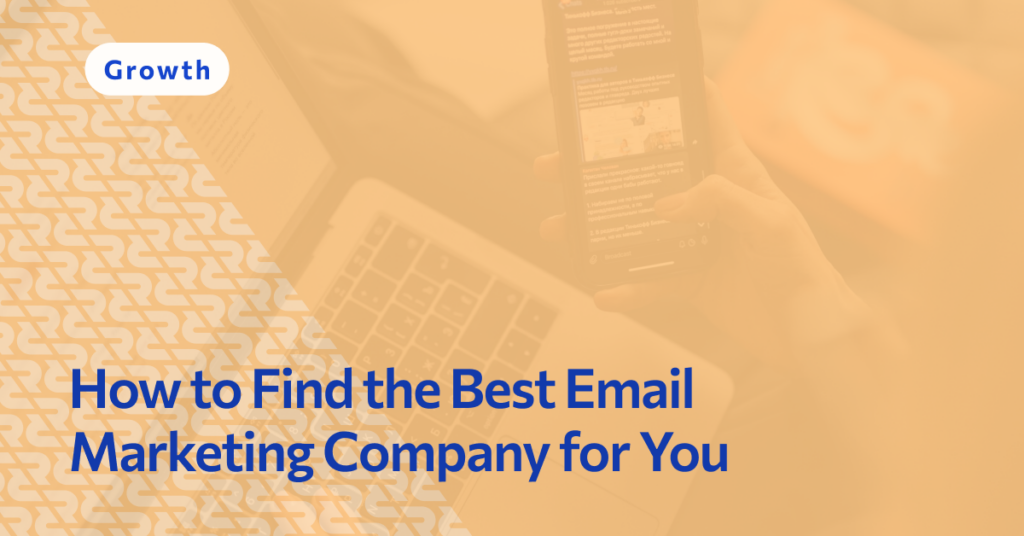 Email is the most-preferred type of brand communication for buyers across demographics and industries. That means it's an essential part of every larger lead-gen and engagement strategy, and hiring an email marketing company is one of the best ways to optimize your efforts.
Email marketing companies have the expertise, bandwidth, and technology needed to execute a strategy that's insights-driven and effective. Finding the one that's best-fit for your unique needs and business is an essential first step.
Quick Takeaways
Email marketing companies offer managed services that oversee your email marketing efforts in a centralized, streamlined way.
Key services they offer include campaign management, list management, analytics and reporting, A/B testing, personalization, and tech tool integration.
Before you look for an email marketing company, define your goals and needs.
As you evaluate each company, look for an established track record with past clients and a solid portfolio (with examples).
Technology integration capabilities and cultural fit are important to the success of your ongoing working relationship.
What Do Email Marketing Companies Do?
Email marketing companies provide comprehensive managed services and solutions to help businesses execute their email marketing strategies.
They manage the many aspects involved in creating effective email communications and campaigns, with a strong focus on targeting, personalization, and the leveraging of marketing automation tools to enhance results.
Services typically offered by email marketing companies include:
Email Campaign Management
Email marketing companies are pros at creating targeted lead-gen email campaigns and others designed to engage specific target audiences. They work with your internal marketing team to design branded email templates, create compelling content, and plan your campaign timing to maximize engagement.
Subscriber List Management
Effective email list management is crucial to the success of your larger email strategy. Doing it well requires effective segmentation, alignment between campaign content and subscriber lists, and ongoing compliance with privacy and anti-spam laws.
Email marketing companies have the automation technology in place to manage lists seamlessly without requiring tedious manual work.
Email Automation
Email marketing automation is what allows companies to execute email outreach at scale. By outsourcing to an email marketing company, you access the necessary software tools to trigger actions and events in response to user actions.
Automated emails might include welcome messages to new subscribers, lead nurturing drip campaigns, abandoned cart reminders, anniversary and birthday greetings—all sent without the need to manually schedule or press send.
Further, automation enhances other aspects of your email marketing strategy, like your ability to personalize messages, A/B test emails, report on their performance, and QA content.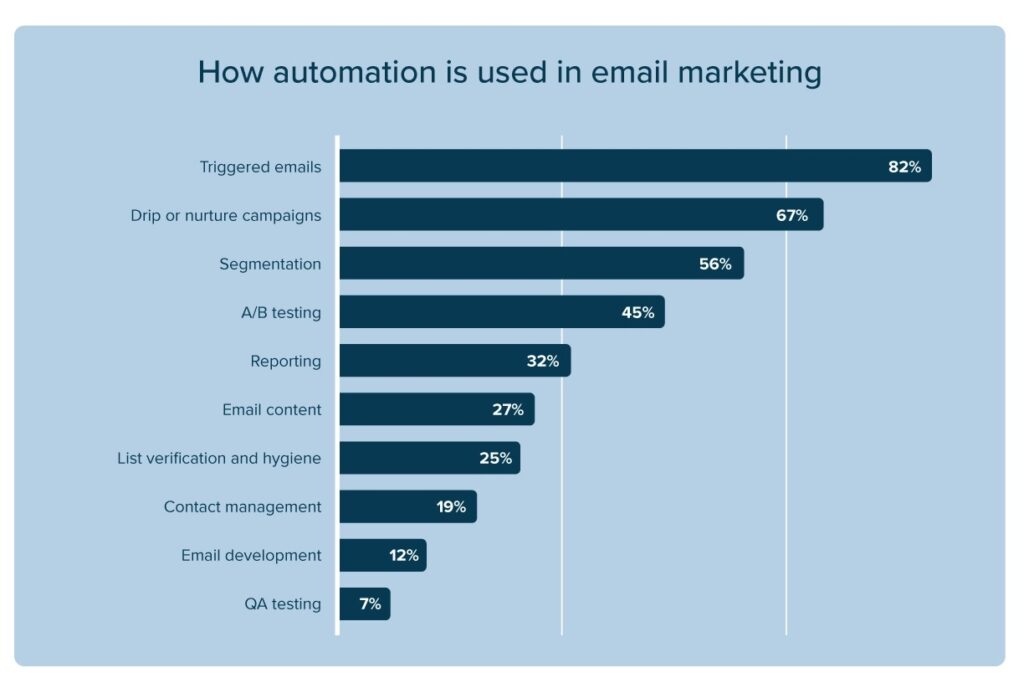 Email Analytics and Reporting
Tracking the performance of your email campaigns is essential to evaluate the success of your strategy and to optimize your future efforts. A good email marketing company will provide detailed and frequent analytics reports to measure important KPIs and metrics like open rates, click-through rates, conversions, and unsubscribes.
A/B Testing
A/B testing is the process of experimenting with different elements of your email campaigns to determine which are most effective—everything from subject lines to content to send date/time to CTAs and more.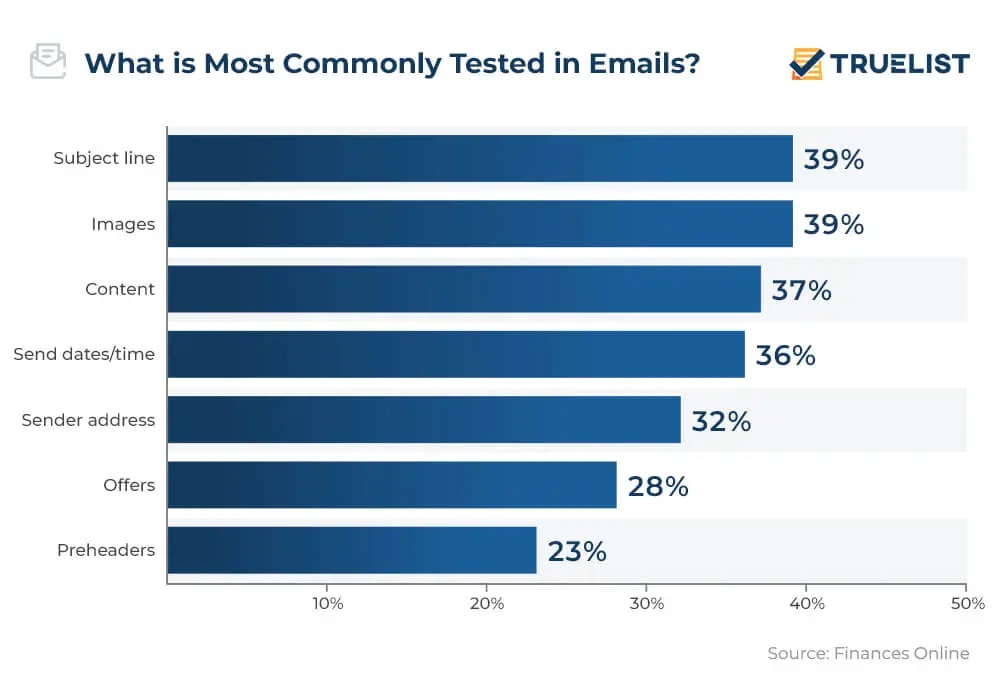 Email marketing companies have established processes for executing these types of tests and know how to do it effectively to gain actionable insights. This is an important capability needed to understand what resonates best with your unique audiences.
Compliance and Deliverability
Email deliverability is the ability of your email messages to arrive in recipients' inboxes without being rejected by an internet service provider or filtered out as spam.
Deliverability is impacted by factors like the quality of your email infrastructure and mailing lists, send frequency, sender reputation, and content. Email marketing companies have expertise in navigating email regulations, compliance laws, and best practices to ensure your emails always make it to their intended recipients.
Personalization and Segmentation
Personalization is now table stakes for successful B2B marketing of any kind—email included. Buyers and customers expect it, and marketing automation tools make it doable at scale. Things like the inclusion of individual and company names and customized content are necessary to engage recipients effectively and make them feel valued.
Email marketing companies can help you create dynamic, personalized content that meets these expectations and aligns with audience preferences and behaviors. Industry research shows this kind of personalization alone can boost email open rates up to 26%.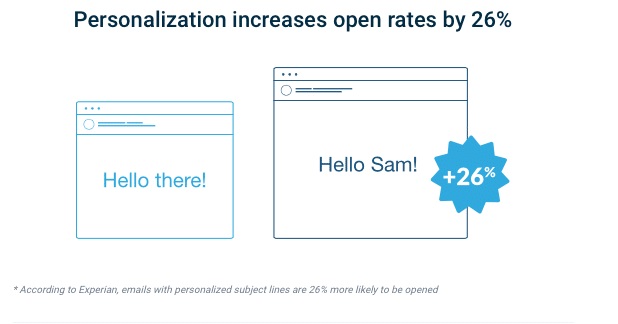 Tech Tool Integration
Email marketing companies design their solutions to integrate with top CRM systems and other critical software tools companies use to manage their marketing and sales. This allows for more seamless data transfer and ensures a smoother experience for your end users and recipients.
Finding the Right Email Marketing Company for You
Even though most email marketing companies provide the services we outlined in the previous section, no two companies do it in exactly the same way.
Some specialize in certain marketing or sales activities—for example, lead generation vs. event marketing and management. Others serve certain types of companies, like small businesses, or ones that operate in a particular industry, like SaaS or retail.
Every email marketing company has different product/service packages, pricing structures, and other attributes that make them better suited to work with certain companies over others.
It's all about finding the company best fit for your unique business. Here are 6 steps to help you do it successfully.
Know Your Goals
What do you want to accomplish with your email marketing strategy? Are you hyper-focused on lead generation? Are you looking to send more effective remarketing messages to boost retail sales? Do you need a better approach to lead nurturing? The best email marketing company for you will have services that align with your priorities and goals.
That means you need to define those goals before you start your search. Work with your internal team to set a clear vision for your email marketing strategy. You can refine it once you choose your provider, but for now, you'll have direction on how to evaluate your options.
Look at Their Track Record
The best indicator of an email marketing company's quality of service is their track record with past customers. Look for client success stories on their website, and check out third-party review sites for an objective perspective.
You can also ask those on your short list to provide an example of when they successfully worked with a company like yours or one that had similar challenges/goals.
Check Out Their Portfolio
Don't be afraid to ask for concrete examples of work a company has done for past clients. Most companies will have this type of content at the ready for you in their sales materials. Seeing concrete examples of a company's work can help you be sure their end deliverables meet your expectations and provide what you're looking for.
Learn Their Process and Service Model
How does each company on your shortlist collaborate with clients? Do they have a pre-designed process they use with every client or do they customize a plan with each? Does their approach align with your expectations and needs? Think about things like:
Communication channels and frequency
Support model (i.e. dedicated rep or not, types of check-ins, etc.)
Performance reporting methods and frequency
Days/hours of availability
Defined number of hours of service per week/month (if any)
This is an important step in the process. If a company's service model doesn't fit well with your own internal processes, it may be difficult to work together successfully.
Ask About Tech Integration
For the best results, you'll want your email marketing tools to be fully integrated with your other marketing and sales tools, especially your CRM. This ensures data flows seamlessly into your lead or audience tracking system so you have an accurate, up-to-date view of your engagement landscape at all times.
Evaluate Communication and Culture
Successfully outsourcing to an email marketing company requires ongoing partnership. You need to maintain a working relationship built on collaboration. Aligned company cultures and communication styles makes this process easier and more seamless.
As you evaluate potential companies to hire, consider their cultures and values and the way they communicate with clients. Ensure it's a good fit for you to maximize potential for success.
How RevBoss Can Help
RevBoss is a lead generation company focused on outbound prospecting. We deliver targeted, personalized messages to your target prospects via email and ad channels.
Our software and services are custom-built for startups, marketing agencies, consultancies, and other B2B organizations to help them grow.
Schedule a quick call with us and find out how RevBoss can help you win more clients.